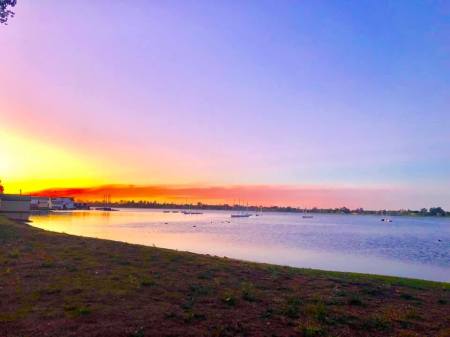 For day three of Homebrew Week, we bring you a feel-good story about how far homebrewing can actually take you.
Local homebrewers Daniel Court and Paul Richter saw their beers being sold at the Ballarat Beer Festival after winning a homebrewing competition.
The beer is called Dust Storm for its hazy appearance that reminded the pair of the recent mud rain. Court and Richter, who sometimes brew parti-gyle on their 200L system, created the recipe with Professor Peter Aldred of Federation University from a previous concoction that they had created. The original was intended to be an American barleywine, fearuing Australian Ale malt, along with light and dark crystal malts and some wheat extract.
"The recipe we decided on the brew day with Peter [Aldred] was to image that beer, as would be hard to replicate as described above, keeping it highly hopped but dial back the ABV with an aim to make it a beer that you would want to return back to the tap and have another, and perhaps another," says Court and Richter. "On the brew day it was again kept local by using House of Malt Light Crystal, wheat and of course the Australian Ale malt and adjusted the colour with some roasted barley."
The pair went to Federation University's Mt Helen campus to work on their brew with Peter Aldred and learn more about brewing processes.
"We still have to pinch ourselves to believe it's real," Court and Richter told Beer & Brewer. "When we have been entering brewing competitions, for us the goal has been largely to get external feedback on the beers we have brewed, presenting us a chance to improve our beers overall, and to gauge how we sit amongst our peers. To have such a generous prize, and to win it, has been a fantastic experience!
"One of the other exciting factors was the recognition we received from within our families, our community, and the many people within the brewing industry that we've engaged with who have been supportive – always offering open and honest advice."
Richter has been homebrewing since around 2000 when he tried to help an English friends recreate some English ales in Sydney. Court, however, only started brewing 12 years ago in his final year at university, inspired by his grandfather. The pair met through work and started brewing together in 2012, investing in an all-grain homebrew setup. Court is now "master of recipe development", while Richter "turns up occasionally with late-addition brew controls and curses about using hops that start with 'C'".
"Dan and Paul are a couple of easy going guys with a real passion for brewing and trying new styles," adds Dr David Bean, who has taken on Aldred's role since his retirement earlier this year. "They were a pleasure to have in the brewery and they really seemed excited to have the opportunity to scale up their recipe. Dan and Paul were happy to get their hands on the University's 6 hL microbrewery.
"Although Peter Aldred has retired, Federation University brewers Andrew Greenhill and myself would very much like to do this again, and we'll be brewing the 2019 winner sometime this year."