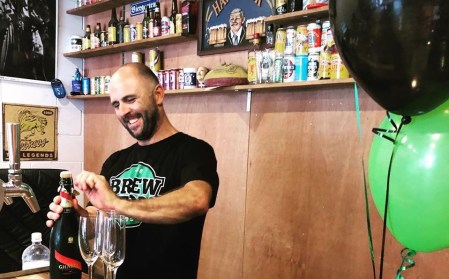 Noosa has its first homebrew store after Scott Hooper opened The Brew Store.
Located on Bartlett Street in Noosaville, the store has been open now for over two months.
Hooper started homebrewing back in 2013 when he was given a Keggerator fridge as a gift. Having bumped into an old school friend who is now head brewer at Sunshine Coast Brewery, he dived right into brewing himself, skipping all the steps and going straight to all-grain.
"Now it's a little bit of a burden because I didn't do the earlier steps with can kits," he tells Beer & Brewer. "I learned to run really quickly, but I still don't know how to walk!"
He now brews a three-vessel system. However, there were no homebrew stores within 40-50km of where he lived, meaning that a lot of the equipment and ingredients that he needed were rare commodities. He found a small CO2 business, took it on and expanded the business to deliver across the entirety of the Sunshine Coast – from Noosa to Calandra.
"By doing that, I have come into contact with over 70 homebrewers in the last financial year," Hooper says. "I'd always have a little box of goodies, like disconnect clamps, a little bit of hardware on have always on hand to get people out of trouble. And this is just a massive branch from that I suppose."
The BrewStore sells equipment, grain (in 100g or 100kg packs) and hops. At the moment, it's just Hooper working at the store with some help from his mother. The plan is to incorporate a homebrewers club.
"I wanted to be the store that I could go to, to get half inch stainless elbow for my brew system or side tube or a new pump or an element or things like that, all the plumbing fittings And the geo type fittings and all that and that's really been well received that hardware side of my store. Now that I'm here, people have started wanting to brew again. They say, 'now you're here, I'm going to start cleaning out the fermenters'. That's been good."
With the current COVID-19 crisis forcing people indoors, homebrewing is a hobby that many are (and should be) taking up. For Hooper, things have been flat-out and the online store opening is one of his priorities.
Craft brewing has grown massively in the Sunshine Coast, with Boiling Pot, Land & Sea and Heads of Noosa the most recent arrivals.