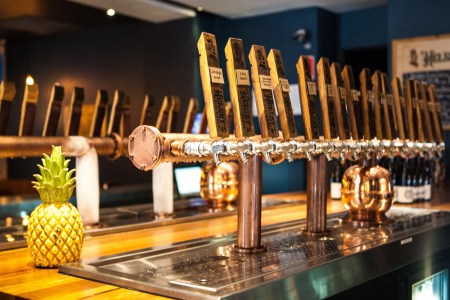 Helsby's Ale House has opened in the front bar of Kangaroo Point icon the Pineapple Hotel, with a focus on pouring independent brews. 
Local and interstate brewers are supported across the 32 taps, with a beer list that changes weekly and moves beyond standard pale ales and IPAs. Standing firmly at the top of the list is the Helsby's House Lager, and when Beer & Brewer visited in October, brews from Fixation, Balter, Newstead, Green Beacon, Currumbin Valley and Slipstream were all pouring.
The venue is named after long-time Pineapple Hotel resident Joe Helsby, who was a familiar face at the bar from 1952-2002. The refurbishment has stripped the hotel back to its original pressed metal ceiling, exposed brickwork, and leadlight windows.
"We've retained a lot of the old character of the bar, parts of which date back over 100 years. The goal was to develop a truly incredible beer bar that meshes with the tradition of the Pineapple Hotel," said General Manager of Helsby's, Les Riddell.
Part of Helsby's charm lies in its thoughtful design: beer-loving guests will find their every need catered to among the 32 taps, but lovers of other tipples are encourage to explore the eclectic range of whisky, gin and rum on the back bar. There's also growler and squealer bottles available, so you can take away your pick of the bunch.
Beer-friendly snacks pass over the bar from 12pm-9pm daily, with nibbles like yakitori skewers, pulled pork tacos, barbeque corn and charcuterie boards turning into full-sized servings of woodfired pizzas and burgers when the clock strikes 3pm.