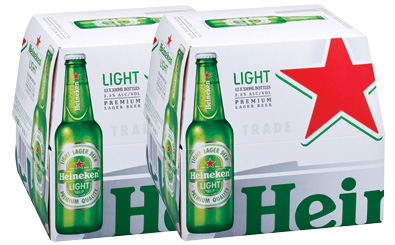 Dutch brewing giant Heineken will launch Heineken Light a 2.5% ABV premium lager into the New Zealand market next month.
New Zealand will be the third country in the world to launch Heineken Light following its roll out in the United States and Taiwan. The launch of a 2.5% Heineken Light, however, is a world first for the brewer as it was developed specially to meet New Zealand's legislative requirements for light beer products to have alcohol content of 2.5% or below.
"We are hugely proud to have produced a world first 2.5% Heineken Light to address the changing consumer tastes here in New Zealand," said Heineken New Zealand marketing manager Julia Imlah.
"This premium light beer is an exciting innovation for Kiwis, which delivers on the uncompromising quality and taste that they have come to expect from Heineken."
The 2.5% premium lager offers "an extraordinary smooth drinking experience with a superior taste profile brewed using all malt to provide a flavoursome foundation. The Cascade hops used impart special floral and citrus notes, along with a light bitterness. Heineken Light is fermented using Heineken's proprietary 'A' yeast and unique long fermentation process that develops full flavour and mouthfeel."
Heineken Light is the single biggest product launch for the brand since entering the New Zealand market in 1994 and will be available across the country from 3 September.