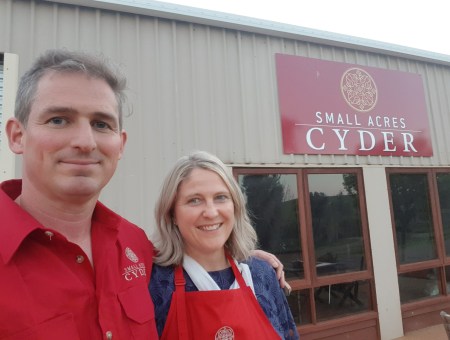 Small Acres Cyder are celebrating the 2021 harvest by revealing the all-new Heritage Blend – the craft cider maker's first release since the Geoghegan family purchased the business last year from James and Gail Kendell.
The debut release sees new owners Nick and Janine Geoghegan (pictured above) continue the original vision of the Kendell's – of producing a range of ciders in Orange in NSW made with locally grown cider apples through traditional and authentic methods.
"The Heritage Blend continues the tradition of specialised cider making in Australia," Nick said. "This cider is made from 100 per cent Orange-grown apples and combines the rich flavours of bittersweet French and English cider varieties, with the lightness of Australia's Pink Lady apples.
"After the drought harvest of 2020, it was a relief to harvest the plentiful 2021 crop from our cider-apple orchard. We saw this great chance to produce a cider that was both a traditional cider, but more accessible for our customers. The Heritage Blend is a medium dry style, and a great step along the cider journey toward the likes of our highly awarded Cat's Pyjamas."
The Geoghegan's took the reins prior to the 2021 harvest and hit the ground running.
"It has been a challenging, but exciting 12 months since we took over the business and started making these ciders. The founders did a fantastic job establishing the brand as one of Australia's premium cider makers and we're looking forward to building on what they have achieved."
Also newly released is the latest incarnation of the medium dry English style Norfolk Still – one of Small Acres' original releases after the business was founded in 2007. It was made from a blend of Orange region apples.
"It reflects the style of cider produced in the eastern counties of England, with fresh red apple flavours and a crisp finish. Without the bubbles (that many expect from cider) it's a popular surprise when people first enjoy the smoothness of the Norfolk Still.
"With the cool climate, the high elevation (892m above sea level) and the rich red basalt soils of Mount Canobolas, the apples produce full-flavoured ciders with crisp natural acidity."
In the 2020 Beer & Brewer Awards former co-owner James Kendell won Best Cider Maker while Small Acres Cyder is the only Australian cider maker to be awarded both Champion Australian Cider and Champion Australian Perry awards at the Australian Cider Awards. These awards complement the producer's consistent award of Best Small Producer (2017, 2018 and 2019). This year Small Acres Cyder was awarded the Best in Show Trophy for their 2017 Pommeau fortified cider at the Red Hill Cider Awards, joint Best in Class Trophy for their 2017 Cat's Pyjamas and a bronze medal for their 2020 Norfolk Still.