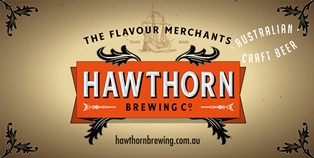 Hawthorn Brewing Co has capped off an exceptional 2014 by being crowned the ultimate title of Supreme Champion Brewer at the recent International Beer Challenge (IBC) in London.
In winning the award, Hawthorn reigned supreme against the international big guns of Boston Beer (North American champion), Fynes Ales (UK champion) and Baltika Breweries (European champion).
In its 18th year, the IBC is the largest packaged beer awards in Europe. With 500 entries received, the competition spans 30 countries. Judges- including retailers, importers, publicans, brewers, writers and flavour analysts – rank each beer by appearance, aroma, taste and finish. This yearan award specific to the brewers themselves, not just the beer, was included.
Chairman of the judges Jeff Evans said, "For its previous 17 years, the IBC has only focused on beers but we felt it was high time that the brewers themselves were recognised, especially those that achieve success in the competition with a number of different beers. It really shows the quality and consistency that runs through a brewery's portfolio."
Hawthorn's managing director Peter Willis spoke of the honour of winning such a highly regarded award.
"To win a Gold medal for our Golden Ale and three silver medals for our Pale Ale, Amber Ale and Australian IPA, and then the Supreme Champion Brewer at these awards is just amazing," he said.
"One of our owners was at the awards and when our name was called out he was blown away. It was so unexpected. We missed out on entering the Golden into the AIBA due to lack of stock, so entering it in the IBC was really an afterthought. We are very glad we did!"
This achievement comes on the back of Hawthorn Brewing winning Silver and Bronze medals at the 2014 Australian International Beer Awards (AIBA) earlier this year.
Congratulations Hawthorn! We raise a glass (of your Golden Ale) to you!
Written by Lucy Le Masurier