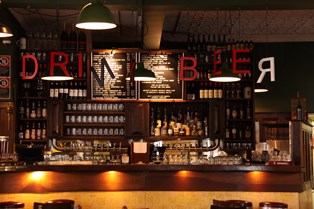 The Local Taphouse, Sydney
The Local Taphouse in Darlinghurst has been named Australia's best beer venue in Beer & Brewer's inaugural list of the country's top 50 beer establishments.
Sydney's renowned craft beer venue, which is owned by GABS festival founders Steve Jeffares and Guy Greenstone, narrowly beat The Wheatsheaf Hotel in Thebarton for the prime spot, while The Local Taphouse's sister venue in St Kilda came in at number three.
Tiffany Waldron and Slow Beer's collaboration brew bar Two Row Bar in Fitzroy, Victoria, was fourth with Queensland's highest placing venue The Scratch in Milton revealed as the fifth best beer venue in the land.
The Top 10 Australian Beer Venues looks like this:
(1) The Local Taphouse, Darlinghurst, NSW
(2) The Wheatsheaf, Thebarton, SA
(3) The Local Taphouse, St. Kilda East, VIC
(4) Two Row Bar, Fitzroy, VIC
(5) The Scratch, Milton, QLD
(6) Sail & Anchor Hotel, Fremantle, WA
(7) The Pour House, Dunsborough, WA
(8) Clancy's Fish Pub, Fremantle, WA
(9) Terminus Hotel, North Fitzroy, VIC
(10) The Royston, Richmond, VIC
The list was compiled with the help of 26 industry experts, including Matt Kirkegaard, Kirrily Waldhorn, James Smith and Chris McNamara. Each expert voted for their five favourite venues. There were no strict criteria. Judges voted based on the range and choice of beers, the quality of service and staff knowledge, and venue atmosphere.
The complete list of the top 50 beer venues, together with judges' comments, can be found in the latest issue of Beer & Brewer, which is on sale now in newsagents, liquor stores and home brewer shops.
You can subscribe to Beer & Brewer here.
Did we miss your favourite craft beer spot? Tell us on Facebook what's your top craft beer venue and the spot with the most mentions will be announced next week as the Beer & Brewer People's Choice Top Craft Beer Venue.