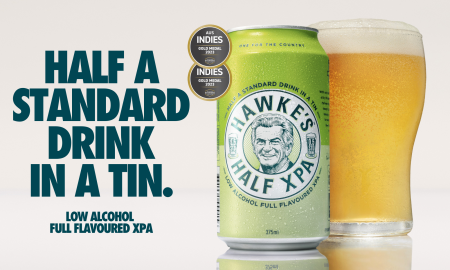 Hawke's Brewing have added the 1.75% ABV Half XPA that's duly won a brace of gold medals in its first outing at the Independent Beer Awards.
Three years since their last core range release, Hawke's said it's their "big play for the upcoming summer" and that it "will tempt drinkers who have felt cornered into choosing non-alcoholic beers when looking for a 'better for you' option".
"We considered bringing a non-alc into our range but we've been able to deliver a much tastier beer at 1.75% ABV," Hawke's CEO Glen Brasington said in statement. "While low alcohol beer isn't anything new, the idea of being able to track consumption in 'half standard drinks' will be fertile ground for drinkers who are up for a real beer but, in this case, only half up for a drink."
The Half XPA won Reduced Alcohol category gold in both draught and packaged formats at The Indies this week and was also the only sub-2.5% beer awarded gold in a category that's dominated by beers with as much as twice the ABV.
Head brewer Brodie French said: "I question whether the growth we're seeing in the sub-2.5% category warrants a separation of 'reduced alcohol' and 'session' into their own trophy categories but we'll leave that to the Indies to determine for next year. We're thrilled all the same".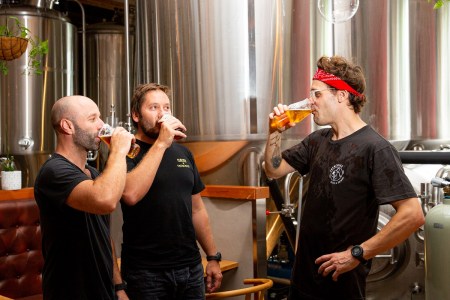 Meanwhile, Frenchies have released a sixth birthday beer and accompanying treasure hunt challenge in partnership with four Sydney venues.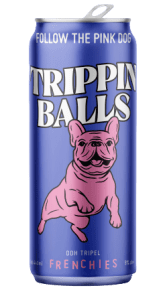 The birthday beer Trippin Balls in 440ml cans is a 9% DDH Belgian Tripel that Frenchies said is "true to style", featuring dehydrated orange peel and crushed coriander, which blend in with the complex flavours of fermentation.
"This sees citrus, banana, clove and peppery aromas jump out of the glass, meanwhile on the palate, a mellow base of honey, rum and bready malts round up the flavour packed brew."
To further celebrate, the Rosebery brewery has teamed up with Chez Crix (upstairs at The Cricketers Arms), Mixtape Brewing, The Beer Bar and The Noble Hops on a riddle challenge.
Each location will have its own Pink Dog riddle "hidden" within its space which beer lovers will be invited to solve, and then scan the QR code located within the venue or on their Trippin Balls can to input their answers into an online form. Those who get all four riddles correct will hear from Frenchies with the good news – they'll win a ticket to Frenchies' Oktoberfeast event on Saturday 21 October, which includes a free stein to enjoy on the day, and take home with them at the end, access to German-themed games, and more.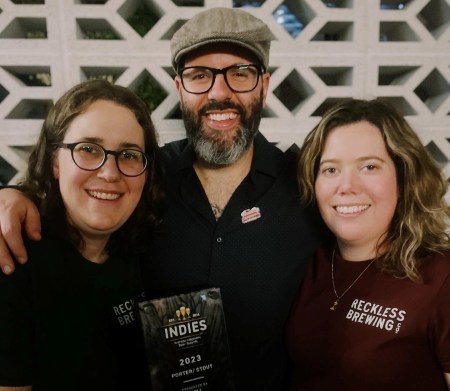 It's been quite the first year for Reckless Brewing since setting up shop in a heritage listed former flower mill to become Bathurst's only craft brewery.
Since making the move from contract brewers to running things themselves, the Grace Fowler, Jarrod Moore and Alice Wilson (pictured in that order above) founded brewery have scored some of the country's most coveted beer trophies.
First came one of Australia's most prized – the Australian International Beer Awards' Best Australian Style Pale Ale trophy for their XPA – back in May. And then this week their hoppy Stout won Champion Porter/Stout at The Indies.
It'll all mean their first birthday celebrations at the brewpub next week will take on extra meaning. They'll have a special birthday beer out from September 1, but in the meantime they're toasting proceedings with the Double Nectarine Sour.
Having quietly been pouring in multiple WA pubs for a few months now, Lion has announced that Swan Gold has made an official comeback in the state after a 20 year absence.
Lion said it's on tap in over 120 venues across WA already and that they're rolling it out "in an additional 20 venues per week".
Lion's WA field sales director Danny Connolly said: "With over 30,000 litres sold to date, Swan Gold is proving once again that West Australians love Swan beer in all its forms. It's great to be able to introduce a new generation of drinkers to this iconic West Australian beer."
Swan Gold is exclusively available in pubs across Western Australia.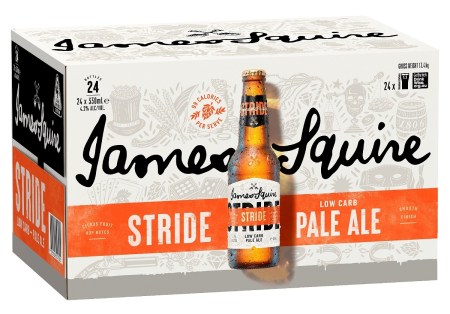 Lion's James Squire brand has added the low carb Stride Pale Ale to its ranks.
With 3.6 grams of carbs per bottle, Stride uses Australian Pale and Munich Malts with a dash of Wheat plus Mosaic and Galaxy hops.
Lion Australia brand director Albertus Lombard said: "We know that there's limited low-carb beer options on the market in Australia, and with James Squire's innovation credentials, it was a no brainer for us to launch into this space".