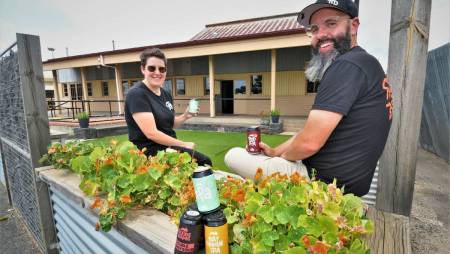 *Since publishing this story in January Reckless let us know they have signed a 5+5+5 lease agreement for the Crago Mill site where they will occupy about double the area that Two Heads Brewing originally did. We have added some new quotes from co-founder Grace Fowler at the bottom following the news their lease had becoming official. A September 1 launch date is still the plan.
Bathurst in country NSW will once again have a craft brewery of its own as Reckless Brewing plan to open a production facility and hospitality venue in the city in time to celebrate their third birthday in September.
Ever since Two Heads Brewing's lease ended at the Crago Mill site in 2018 Bathurst has been one of the largest cities in Australia without its own brewery. But that's all likely to change this year and it will be in that same 100-year old, heritage listed Crago Mill site that Reckless hope to establish themselves after contract brewing since they launched in 2019.
Speaking with Beer & Brewer, co-founder Grace Fowler (pictured above) said they were nearing the end of lease negotiations after "a lucky find" in coming across the site and all things going to plan hope to be operating by September 1.
"We were looking in Bathurst (for a location) and (Crago Mill) was mentioned randomly to us by a Bathurst local on a virtual beer tasting we did.
"It's an ex-flower mill next to the Bathurst Railway Museum and externally it's heritage listed. It's such a beautiful building.
"Internally it's undergone a pretty modern makeover with nice new fittings et cetera while Two Heads did a lot of work in their time in terms of the brewery site, with things like ventilation and drainage plus installing a beautiful bar and a cool room and kitchen. So obviously all of that is a big bonus for us."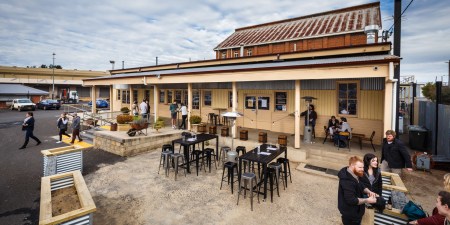 Grace said Reckless, which she co-founded with her husband Jarrod Moore and their best friend Alice Wilson, had initially thought somewhere like Newcastle would be a good fit for realising their longtime dream of establishing a base for the brand. But having moved with Jarrod from Sydney to Oberon, a town just outside of Bathurst, about three years ago, and having now ingratiated themselves within the local community, their hearts are set on making this their spiritual home.
"Once we moved here and realised there was an appetite (for craft beer), and a void to fill, it kind of all fell in to place and makes sense," Grace said.
"As a contract brand we've been doing quite well… but it's been really nice to see people take to us here and be happy to take us into the local community.
"On a list of places that would be perfect (to establish a home) it's pretty high up there I reckon."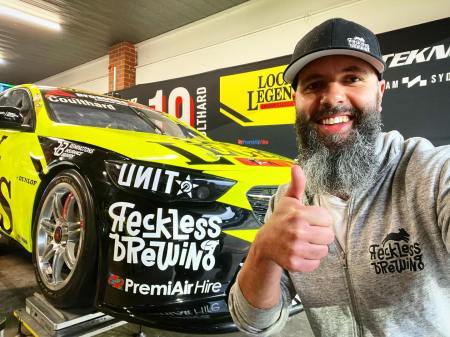 Once the lease is finalised Grace said they would look to purchase a 12-hectolitre, four vessel brewhouse which would cater for their own production needs and potentially free themselves up for some contract brewing of their own.
"Having the home is very important. We're very limited at the moment with the amount of beer we can produce as we're relying on other people's capacity. So having a little bit more freedom will be amazing.
"We're putting in a brewhouse and the fermenters that are capable of producing half a million litres straight away and that in itself should mean that we're not lagging behind on our production.
"Our long term goal will always be to be a national brand and that would obviously involve having a production facility elsewhere and somewhere like Newcastle would be on the table I guess.
"But as far as those long term goals go, let's just get the brewery up and running and make sure our beer is distributed as far and wide as possible – especially in regional NSW. Then we can slowly but surely put the right people in place to get our beer out there."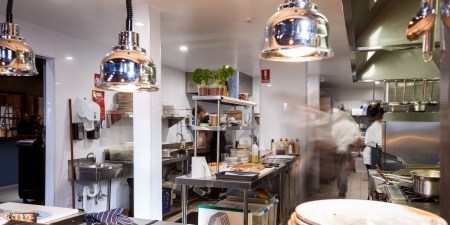 As well a sizable carpark and beer garden the Crago Mill venue features a large commercial kitchen which Grace said would allow them to not just cater for their guests but potentially host large scale events like weddings.
"Food is not our area of expertise. But we've been talking to a few locals about what to do with the kitchen and we would ideally like to run that side of things ourselves.
"But in the short term we'll be focussing on the beer so that it remains at the quality that it is currently. Food trucks and pop-ups would be the initial plan."
To kick-start the venue they're foreseeing needing about 10 new employees initially but if their production projections are realised hope to have at least 35 staff on board in the next two to three years across the entire business.
"It's going to be a lot of work and a big challenge," Grace said. "But at the end of the day it's something that we've really been working on for years and years and there's just something so satisfying about working for yourself and doing it for yourself.
"(The last few years have) been hard. But we've been able to weather the storm with a few different strategies that have worked quite well for us and hopefully, fingers crossed, we are coming to the end of this period and hopefully we can really hit the ground running. That's the plan anyway!"
*New quotes from Grace following the 5+5+5 lease being signed:
"We will have basically the whole bottom floor, the original Two Heads Brewing site plus some more space for seating. About double the original Two Heads area.
"It's so exciting, terrifying when you look at the list of tasks to complete before our planned open on the 1st of September!
"It's so awesome to have somewhere to call home. We have already had a bunch of locals get in touch telling us how excited they are. It's a really nice warm feeling.
"Next up, finalise our equipment order and have a celebratory beer. Then knuckle down and get it done!"