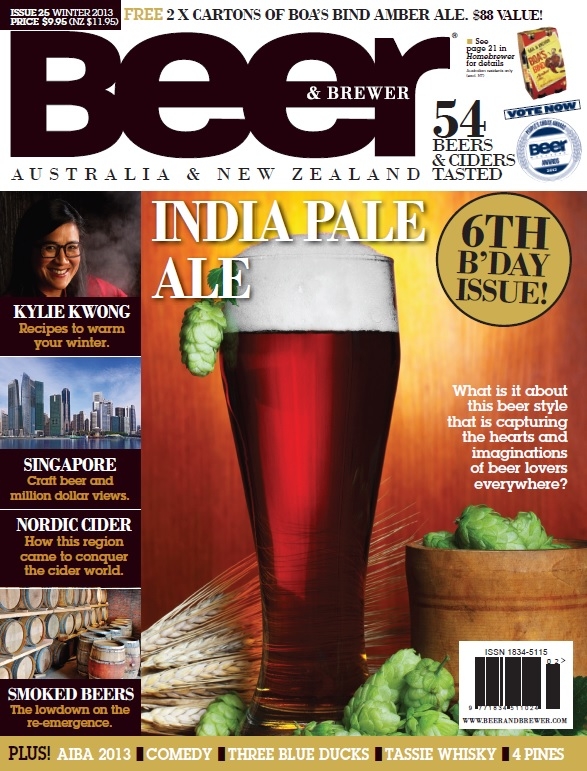 New Winter 2013 Issue on sale May 27 – Vote in the Beer & Brewer Awards and read a full list of Trophy Winners from the 2013 Australian International Beer Awards.

This issue's cover story investigates the trend for and love of the India Pale Ale style that has swept across the globe since the beginning of the craft beer revolution. Super hoppy beers are heading into some pretty extreme territory both in Australia and New Zealand – but is it sustainable, and what exactly is the mass market reaction? We speak to brewers from both sides of the ditch to find out.
They say there is no smoke without fire so in this issue we turn a spotlight on Rauchbier, the smokiest beer of them all as it makes a comeback with brewers all over the world.
Guest recipes this issue are from legendary Australian Chef Kylie Kwong – heat up your kitchen with her iconic Chinese cuisine – and from the winners of the Beer & Brewer Awards Best Restaurant gongs in bot Australia and New Zealand – whip up something a little special and match it with the perfect brew to keep the chill away this winter.
Rekorderlig has certainly taken the world by storm and is showing no signs of slowing down. Similarly Koppaberg is the biggest cider brand in the world. So just how is the Nordic region of Europe cornering the cider market come sun, snow or cold?
Singapore is often a mere stopover en route to Europe but this issue the editor explores the wealth of beer drinking potential on this action-packed island.
We're also doing a Whisky Tour of Tasmania, talking beer and food matching with the Three Blue Ducks (NSW) and exploring what could be the biggest collection of beeriana in Australia – The Great Australian Beer Shed in Victoria.
HOMEBREWER
The hop harvest is done and dusted for another year, so to celebrate we sent Homebrewer editor Chris off to pick hops and create an exclusive Fresh Hop Ale recipe.
With Smoked Beers on the winter radar we chat to Kiwi brewing legend Søren Eriksen of 8 Wired about brewing his famed The Big Smoke Smoked Porter as well as getting all the low down on Smokey Bishop Dark Lager from Matso's (WA) head brewer Marcus Muller.
Need to keep warm this winter? Try your hand at brewing Chilli Beer to serve alongside some cracking cheese-stuffed chillies – it's the perfect combo to heat up your winter nights.
Unsure about brewing with adjuncts? We sort the rice from the corn in the second of our two part series as well as expanding your brewing horizons with a couple of recipes to add to your repertoire.
Spotted the Beer & Brewer cover? Love a good IPA? Try out our Hop Devil recipe to really put the bitter into your bitterly cold winter.
All this and loads more… Get your copy of both magazines in Dan Murphy's, good newsagents, bottleshops, breweries and excellent homebrew stores from May 27.