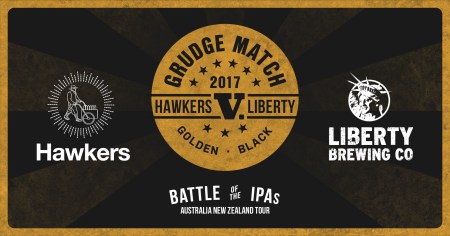 Australia and New Zealand will go head-to-head in two countries over 12 evenings when Hawkers and Liberty face off in a Battle of the IPAs Grudge Match.
The golden colours of Hawkers' Golden IPA (7.4% ABV) will battle Liberty Brewing Co's Black IPA (6.3% ABV) on the multi-stop tour, with each beer brewed especially for the showdown.
Hawkers' Mazen Hajjar explained to Beer & Brewer that the idea for the tour was born out of a friendly rivalry between Liberty Brewing Co's Joe Wood and himself at GABS in Auckland.
"I've been brewing for 11 years right around the world, so I've been drinking a hell of a lot of beer for a hell of a long time, and I've become almost jaded in terms of… there's a lot of really good beer out there but it takes a lot for something to stand out.
"On our last trip to GABS in Auckland, the night before I had Liberty Knife Party IPA for the first time in my life, and it was one of the best IPAs I've had in a long time."
So impressed was Hajjar with the Knife Party IPA that he went out and bought the entire Liberty range to bring back to Melbourne after GABS Auckland.
"The next morning we went over to his brewery and started the day at 9am with a 13 per cent barrel aged Porter before going to GABS.
"Then the idea was, how about we do a bit of a collab and he said yeah, but I said that I didn't want to do a beer where we send off a few ideas, talk over the phone the we brew it. And he agreed so we decided to do something fun.
"I said 'ok, where do we brew it?' and he said 'whatever, why don't we brew it in both places?' and I said no, because I didn't want to brew the same beer in two places, let's do something fun and complementary. He said I'll show you how to brew, I said no I'll show you how to brew and so we brewed a Golden IPA at Hawkers and he brewed a Black IPA.
"Alex from our side went to brew with them and Joe came down and brewed with us, and they were basically designed as gold for the colours of Australia and black for the colours of New Zealand.
"Then we had this idea that traditionally that's what a black and tan is, so lets brew the beers with different finishing gravities so we can do a black and tan with these really hoppy IPAs, and that's how it was born."
The Battle of the IPAs Grudge Match will also be each brewery's first tour of their respective neighbouring country; Hajjar says attendees will get to "meet the brewer, talk to the brewer, and taste super fresh, super hoppy beers."
A few kegs of the Golden and Black IPAs may be left over in each local market (Golden in Australia, Black in NZ), but the only way to ensure you'll get a taste is to head on down to the Grudge Match in your city.
"Two award winning breweries, two countries, and 12 amazing evening at amazing venues with lots of great beer – what could be better?"
Dates and venues for the Grudge Match:
The Australian Tour
Friday, October 20, 2017: Dutch Trading Co. Victoria Park. WA
Tuesday, October 24, 2017: The Catfish, Fitzroy, VIC
Wednesday, October 25, 2017: Saint John's, Launceston. TAS
Thursday, October 26, 2017: Gilbert Street Hotel, Adelaide. SA
Friday, October 27, 2017: Brewski, Brisbane. QLD
Saturday, October 28, 2017: Bitter Phew, Darlinghurst. NSW
Sunday, October 29, 2017: Castle Arms, Kingston ACT
Monday, October 30, 2017: Up in Smoke, Footscray. VIC
The New Zealand Tour
Wednesday, November 8, 2017: Rogue & Vagabond, Wellington
Thursday, November 9, 2017: The Brewers Co-operative, Auckland
Friday, November 10, 2017: Tonic Bar, Dunedin
Saturday, November 11, 2017: Dunedin Craft Beer & Food Festival, Dunedin