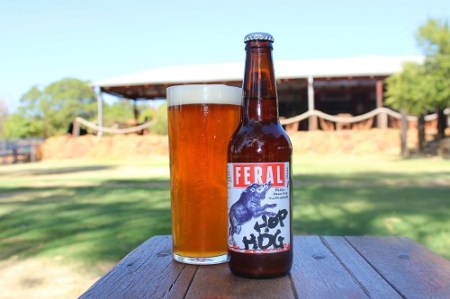 By Deb Jackson and Andy Young
Feral Brewing has today announced that it has been 100 per cent acquired by Coca-Cola Amatil (CCA).
Since opening its doors in 2002 Feral has quickly cemented itself as one of Australia's favourite breweries, even being voted as Australia's best brewery in the 2016 Beer Cartel Australian Craft Beer Survey.
But according to Founder Brendan Varis the time had come to make a tough decision in the best interest of Feral's future.
"Making innovative premium quality beers that are well executed and have high drinkability is what the team here loves to do and what consumers admire most about us. But a growing business is a hungry one. We have a lot of future plans for the business which, if Feral needed to rely on my personal balance sheet to fund, would take years to execute.
"People might have thought that we would be fiercely independent for forever and a day but the reality is that having a single shareholder in a business that is growing like ours is always going to be difficult from a capital perspective.
"When the conversation started we were really looking to get some of the debt out of the company after some really major cap-ex last year and some of the more long-term debt. We were looking for a shareholder to help us with that and then as the conversations started, one thing led to another and it gradually became clear that it was going to be as good or better if we considered an entire sale, and that is where we have ended up."
Varis explained to Beer & Brewer that the partnership with CCA made sense as both businesses understood the importance of building new brands.
"We are certainly not a brand that you could just implant into anyone's business and assume that it is going to continue to grow and prosper, it's going to need brand building work and their mindset was very much there.
"I was just really comfortable talking to Shane (Richardson) and Judd (Michael) and they understood that buying us was a very different prospect to buying other craft breweries who might make more introductory-type craft beers and have a reputation around that. Shane and Judd understood that the challenges of buying Feral would be very different to the challenges of buying any of the other craft breweries.
"Everyone knows that any efforts to try and change the product mix or the integrity of any of the products would lose all the people that support us today."
The news comes hot off the heels of 4 Pines being 100 per cent acquired by AB InBev. And in late 2015 Mountain Goat also sold a 100 per cent stake of its business to Asahi. These sales have all been met with a degree of consumer backlash – but one thing that each of these breweries insist upon is that the new ownerships have not affected the quality of the liquid they produce.
Varis said: "There will undoubtedly be some who will never buy another Feral beer again because we are not independent and there is not much that we can do about that.
"The benefits for our staff and ultimately our beer will be better because of this and you've got to question whether people, when they first picked up a Hop Hog, knew that it was independent. I don't think that many people started drinking our beer because of it being independent, so it would be a shame if they stopped drinking it for that reason.
"I implore people, if independence is important to them then fine, but for people who have looked at and listened to why we have sold, I just implore those people to not prejudge it, let the liquid do the speaking and if the liquid isn't as good or better going forward then the choice is there for them. But I am 200 per cent confident there will be absolutely no change to the liquid as a result of this sale.
"This has been an amazing 15-year journey for us but I feel I have taken the business as far as I can on my own. Having the support of Amatil will allows us to fulfil some of our future goals and ambitions of Feral far sooner than we could have otherwise contemplated."
Chris McNamara, the Executive Director of the Independent Brewers Association said: "The Independent Brewers Association would like to congratulate Feral Brewing Co, in particular Brendan & Gabi, on the sale of the business to Coca-Cola Amatil.
"We are currently investigating what the sale means for Feral's eligibility to remain a member of the Independent Brewers Association and will make further comment once these investigations are complete."
Feral joins CCA's Yenda and Pressman's Cider brands, as well as Coors and Blue Moon which are brewed and distributed by CCA in partnership Molson Coors.