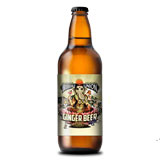 Sydney brewing outfit Brookvale Union Brewery, an off-shoot of award-winning 4 Pines Brewery, has landed in a spot of hot water over the labels on its recently released ginger beer. The labels, which feature a pastiche of two prominent Hindu gods, Ganesh and Lakshmi, surrounded by a number of other symbols holy to the religion, have caught the attention of prominent Hindu spokesperson Rajan Zed, President of the Universal Society of Hinduism.
According to a press release from Rajan Zed, the label is "higly inappropriate" and has called for the brewery to stop using Hindu symbolism to sell their products. In Hinduism, Lord Ganesh is worshipped as the god of wisdom and remover of obstacles, and Lakshmi is considered the goddess of good fortune and beauty and is also known as 'world-mother'.
Brookvale Union Brewery released a statement on Thursday, 14 November, apologising for the issue – and offering a unique way for anyone who wants to get involved to be part of the solution to the issue.
"It seems we have unintentionally offended our Hindu friends with the imagery on our Ginger Beer packaging," Brookvale Union Brewery said in a prepared statement. "We've received feedback from many Hindu's over the last few days – some find the label offensive, others do not. Nevertheless, it was not our intention to offend a group of people. Brookvale Union is about great tasting, fun beverages and not about disrespecting anyone or their beliefs. We have subsequently apologised for any distress caused and begun the process of removing the images from the website. We're lovers, not fighters, we want to make it right."
"We are now focused on redesigning the Ginger Beer which hopefully all can be happy with!" the statement says. "Brookvale Union is asking graphic designers, artists, and even doodlers who think they can rise up to the challenge to put pen on paper and better the existing design."
So – if you're the creative type who can put together a label that won't offend roughly a billion people, have a look at the Brookvale Union Brewery website to get an idea of the style they're after, and get your design in via email to brookvaleunion@gmail.com before 5pm, Sunday 24 November, 2013.