Goose Island has brought 900 bottles of its limited edition Bourbon County Stout (BCS) across from the Chicago brewery in an Australian first.
The barrel aged beer is fiercely coveted by the beer community in the US, with connoisseurs lining the ice cold streets of Chicago – and elsewhere around the States – to get their hands on a bottle, waiting hours in the cold on Black Friday after Thanksgiving when it is released each year.
The Goose Island Bourbon County Stout (BCS) will be tapped at midnight tonight (23 November) at Forester's Pub & Dining in Melbourne, Uncle Hops at The Bank in Sydney, and Dutch Trading Co. in WA. Those in attendance will be the first in the world to get a taste of the 2017 iteration of the beer.
BCS will then go on sale for $29 on Friday morning (November 24) at Slowbeer in Fitzroy, Melbourne and Cutty Cellars in Crows Nest, Sydney. There will also be a very limited supply available on Boozebud.
Tif Waldron, Beer Ambassador for Goose Island, told Beer & Brewer that the time had come to bring BCS across the Pacific to Australia.
"The Australian beer market is maturing quickly, and with that, the appearance of barrel aged beers and interest in aging beers has increased.
"Australia has long been recognised as a leader in the wine world, and has recently started being recognised globally as place for award winning whiskies, gins and spirits, so it only makes sense that brewers have started using these barrels for beer aging more regularly.
"But one spirit we cannot make in Australia is bourbon, so these barrels are still more difficult for brewers to get their hands on. We are so lucky to be able to bring the world's first bourbon barrel aged beer to Australia this year, and we know that Australia will love it as much as the rest of the world does.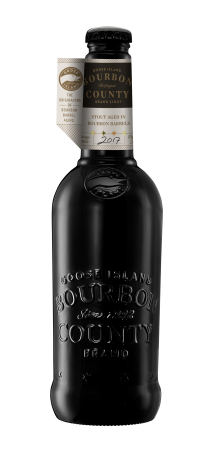 "We know that fans in Australia have been asking for it, and we are giving them what they've asked for."
Commenting on what makes BCS so desired by beer enthusiasts globally, Ken Stout, President of Goose Island International, said "there really is no other beer out there quite like it."
"We've learned a lot in our two plus decades of barrel aging at Goose Island. One of the things we've discovered is that the weather in Chicago is a really big advantage for aging in bourbon barrels.
"Our barrel aging warehouse is not temperature controlled, because we want the barrels to be exposed to the full range of temperature fluctuation. In the heat of the summer, the pores in the barrel staves expand, and our base beer can then penetrate deeply into the wood.
"And of course it's deep in those staves where the bourbon rested at the distillery. So we end up pulling all of these beautiful residual flavours from the barrel, such as vanilla, char notes, hints of wood, and of course, the wonderful aromas and flavours that the bourbon left behind."
BCS dates back to the early 1990s when Brewmaster Greg Hall brewed the first batch. The process of aging the beer in bourbon barrels has even led to a documentary being created in its honour: Grit and Grain: The Story of Bourbon County Stout.