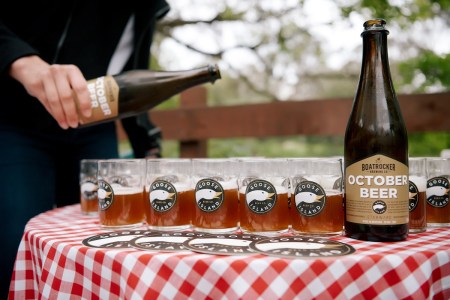 Goose Island has joined forces with Melbourne barrel specialists Boatrocker Brewing Company to craft the October Beer, a limited edition barrel-aged ale.
Aged in Starward Whisky barrels, the two breweries – each famed for their barrel-aged beers – have created a brew that combines their many years of experience working with wood.
It also marks Goose Island's first local collaboration following its Australian launch in April.
According to Bill Savage, Lead Brewer of Goose Island's Barrel Aging Program, the brew was born in May this year during Good Beer Week, when brewers from Boatrocker and Goose Island came together to celebrate the subtleties and flavours of this age-old tradition.
"Sampling a boatload of interesting at Good Beer Week really got out creative juices flowing," he said.
"The art of barrel-aging beer isn't nearly as prevalent in Australia as it is in the rest of the world, and there is an entirely new spectrum of flavour created by the barrels that is yet to be explored. The Boatrocker October Beer injects Goose's signature modern twist into this classic concoction.
"The limited release marks the first time we've collaborated with an Aussie brewer, and it's an experience very close to our hearts.
"Our industry thrives on creativity, and international brewers coming together to think outside the box has produced some incredible beers. Working alongside Matt and the rest of the team at Boatrocker was a terrific experience."
Matt Houghton, Boatrocker Founder and Head Brewer, describes the 9.4% ABV October Beer as "dangerously drinkable", and suggests enjoying it at cellar temperature like traditional British ales.
"Barrel-aged beer is a signature part of Boatrocker's identity," Houghton explained. "With barrel-ageing also entwined with the unique history of Goose Island, we couldn't think of a better collaboration than the October Beer.
"Aged in Starward whisky barrels, the brew shows off with a deep golden colour, whisky notes on the aroma, a malty palate with slight plum and tannin from the barrels and an earthiness from the classic English hops East Kent Goldings.
"Hints of vanilla, dried stone fruit and caramelised malt provide a well-integrated aroma that transitions effortlessly onto the palate. An assertive hoppy bitterness balances the rich and luscious puddling-like flavours that roll over the tongue and linger with a gentle warming sensation. Smooth, rich and robust yet not too overpowering or complex."
The October Beer will be available exclusively from selected venues in Victoria and from The Boatrocker Brewery in Braeside.
Don't forget to vote in the Beer & Brewer People's Choice Awards – you'll find the voting form on the right hand side of the page!