Current Newstead Brewing Co. brewer and director Mark Howes has been appointed as Chief Executive Officer of the Brisbane brewery.
The move has been deemed necessary by the brewery's directorship team, allowing Newstead to clearly communicate its vision and culture as it moves through a rapid phase of growth and expansion – clearly displayed in the opening of a second brewpub location in Milton earlier this year.
According to Newstead, Mark will continue in his position of brewer and maintain a 'hands-on' approach with production, while also stepping into to the role of overseeing the business as a whole.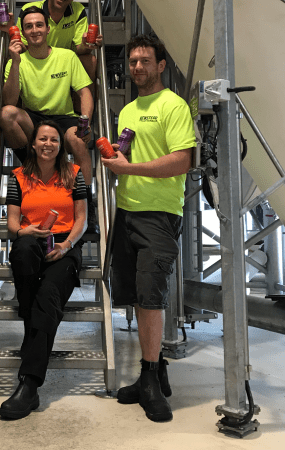 "Newstead has always been a community focused, Australian, small family business," Howes commented. "We have an excellent team, laden with the right skills to be deployed in an effectual manner.
"I am relishing the opportunity to help serve these people in achieving the best outcomes for Newstead and its clientele."
Darren Magin, Newstead's brand ambassador, told Beer & Brewer that the brewery are also looking at wider distribution of its core range of beers, which were released in a new can format in August.
"We're still in the early stages of production and nailing that process, but in terms of manufacturing at a faster pace, once we can churn more beer out we'll be looking to target other states," Magin said.
The Milton brewery – located on Castlemaine St in the shadows of Suncorp Stadium, and only two blocks away from the original XXXX brewery – dwarfs Newtead's original Doggett St location, and now produces all of the brewery's core range.
"To be able to open this [Milton] up and say we are now producing 100 per cent of our beers in Brisbane – all the core range, all of the cans come out of here now – that's so cool for us.
"Again, I'm not begrudging what [contract brewers] BrewPack did for us, they were fantastic, but to be in control of our own destiny is fantastic and really exciting.
"All of the small batches, seasonals, collaborations are still coming out of the kind of 'testing ground' at Doggett St, but having this new space really enables us to play around a bit more over there with small batches."
Both locations are also home to a fully licensed brewpub, and as Magin explained, tend to draw a slightly different clientele.
"Certainly the main appeal here in Milton on game days is the stadium crowd, but we generally do get, because of our location – three blocks away are all businesses – a lot of businesspeople coming in here to Milton compared to Doggett St.
"Sure, we get a bit more of the beer connoisseur, beer nerd crowd coming in to 'spiritual home' on Doggett St compared to here. I think Castlemaine St is a lot more doable for a lot of people, and it's more connected by public transport."
"Compared to what was an old bus shed at Doggett St where the frontage is quite small, here in Milton we've made more use of the light. It's also quite adaptable for capacity, depending on how many people are in, and we're able to play down certain spaces at certain times.
"As I said before we are first and foremost a brewery, a brewing company, but we're fortunate to have two great pubs as part of the hospitality offering. It's a great sales tool for us."
Don't forget to vote in the Beer & Brewer People's Choice Awards – you'll find the voting form on the right hand side of the page!