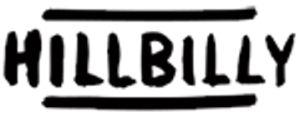 There was good news for the owners of
Hillbilly Cider
 in among the stress of the bush fire disaster in the Blue Mountains with the 12 month old company picking up a silver medal in the "medium Perry class" at the Australian Cider Awards.
Shane and Tessa McLaughlin, owners of Hillbilly were not able to be present at the dinner due to the bush fire situation in Bilpin. According to Tessa, it was an incredibly stressful time.
"We'd just arrived in Sydney on Thursday and when we heard about the fires approaching Bilpin, Shane jumped straight back in the car to Bilpin," she says. "[The medal] was a nice surprise when I heard the next morning and was able to ring Shane, who'd been up till 3 am with the locals preparing everyone's properties."
Launched just over a year ago Hillbilly collected a bronze medal in the Australian Cider Awards 2012 within its first two weeks of business, making their silver effort a great first birthday present.
Hillbilly makes two ciders – Hillbilly Crushed Apple Cider and Hillbilly Pear Cider. Both are 100% natural with no added sugar or artificial flavours.
Shane is still up in Bilpin helping with the back burning efforts and reports that morale remains high.
Hillbilly cider is stocked in independent bottle shops, bars and restaurants.