The Australian Brewery in Rouse Hill, Sydney will round out a successful 2015 by trading in five new international markets, implementing new equipment that will increase the brewing capacity by one third and the introduction of three new core beers.
Distinctive Australian branding, the low Aussie dollar and some good medal wins this year have created a perfect storm for the Australian Brewery and export. The brand has been trading throughout Japan, Singapore and Hong Kong for most of the year and a strong finish to the year has seen shipments of beer on route to India, Canada and Abu Dhabi.
"Our recent success with export is another step closer to our goal of being recognised as Australia's craft beer brand internationally," said Australian Brewery general manager Marcello Colosimo.
To help furnish the increased demand and with more markets forecast for early 2016 the Australian Brewery's fermentation has been increased by one third with four more 50 hectolitre fermenters and a new bright tank. This will augment the brewers ability to work split shifts and where possible brew to spec for each export, keeping the beer as fresh possible.
With increased competition for beer taps and menus on the Australian East Coast the brewery has refreshed its line-up of core beers. Saison D'Heretique has entered the range after a gold medal at this year's Australian International Beer Awards (AIBA). Also joining the core range is All Star Session IPA, which contains a mix of American hops, not only dry hopped in the fermenter but again in the bright tank for an imposing but well rounded bitterness. Lastly, the brewery's most striking can yet, Alchemy Golden Ale, joins the line-up with a full spectrum of Australian hops it is the perfect session beer for an Australian summer.
Three new core beers:
Alchemy
Style: Golden ale
ABV: 4.5%
IBU: 24
Malts: Pale, aromatic malt, Caramunich, malted rye
Hops: Helga, Summer Saaz, Australian Cascade, Ella, Topaz
Tasting notes: A striking amalgam of brewing elements with spicy and aromatic malts and a full spectrum of Australian hops. Dark gold in colour, radically enjoyable and worthy of extended study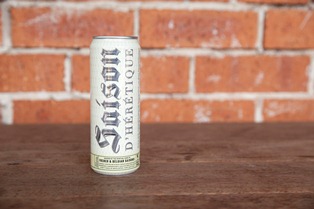 Saison D'Heretique
Style: Saison
ABV: 6.2
IBU: 30
Hops: Magnum, Ella, Summer, Topaz, Australian Cascade
Malt: Pilsner, rolled barley, rolled wheat
Yeast: Belgian and French saison
Tasting Notes: French and Belgian yeasts generating a delicate and light beer that packs a hefty punch of white pepper, clove and citrus on the palate with liquorice, clove, citrus and pepper on the aroma
All Star Session IPA
Style: American Session IPA
ABV: 4.3%
IBU: 45
Malts: Pale, Dark crystal, Caramunich II, Abbey, Rye
Hops: Moasic, Centennial, Columbus, Cascade, Amarillo
Tasting Notes: A characteristically over-the-top exhibition of American hops in a beer that's imposing, but sessionable in the extreme