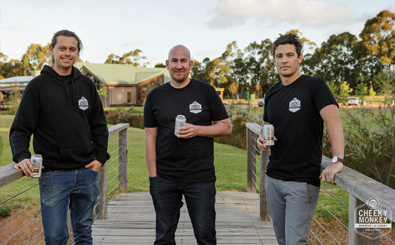 WA's Cheeky Monkey Brewery has joined the craft beer can movement, with its new canning line pumping out an impressive 35 cans per minute.
The brewery was previously concerned about rolling its beers out nationally as they are brewed naturally using Margaret River rain water with no preservatives making them very susceptible to damage from light and oxygen.
"The new cans will solve that issue and we will know that customers are having the same product at home that they can enjoy at the brewery. This is the reason that serious craft breweries are turning to cans. Sierra Nevada, Pirate Life, Mountain Goat, etc," said head brewer Ross Terlick.
The cans will start rolling out 1 November, with the first brews to be put into cans the Blonde Ale, Pale Ale and Apple Cider.
"We have long been known for the amazing experiences that people have at our beautiful brewery. These cans will mean that people can now have that experience at home or in their favourite drinking hole or restaurant," said managing director Brent Burton.
To celebrate the leap into cans the brewery is throwing a 'Cheeky Monkey Gets Its Cans Out Weekend' kicking off tonight (29 Oct) with a tap takeover at Print Hall in Perth. This will be followed by Tasting and Tortillas at Mane Liquor in Belmont on Friday (30 Oct) and then a Meet the Brewers event at The Mantle in Fremantle on Saturday (31 Oct).