This content was supplied by Darrell Croker, Senior Consultant from Purser Corporate Communication.
Craft beer is the new black and 'it girls' are sampling boutique brews in greater numbers. As Australia's interest in produce, cooking and the dining experience burgeons, there is a concomitant attention to beverages. Behind the scenes, women have been significant players in the craft beer industry since the get-go. Many are now well-established operators, and brewing up interest alongside them is everyone from bloggers to barley experts.
South Australia prides itself as 'the flavour state' and Adelaide will host the largest annual gathering of brewers in Australia for the Craft Beer Industry Association's (now the Independent Brewers Association) national conference, trade expo and awards from 25 to 27 July. The association exists to build excellence and best practice in the Australian beer industry. The 2017 awards, to be held at Adelaide Oval on Thursday, 27 July, will raise a glass to craft, creativity and class. Significant players laud the craft beer industry's gender neutrality, and attendees and possible award winners will include a significant proportion of women.
Danielle Allen is the Co-Owner of Two Birds Brewing at Spotswood in Melbourne. Karen Golding operates Red Hill Brewing in Victoria's Mornington Peninsula. They are passionate about craft beer and its role in broader lifestyle and gastronomic trends.
Danielle had a solid 10-year background in product development and marketing. Her partner at Two Birds, Jayne Lewis, had been working as a brewer for almost 10 years and had some ideas on new beers.
"Jayne was originally a winemaker by trade, but transitioned into brewing after seeing the light and realising that brewing allows a lot more creativity," says Allen. "I had always wanted to start my own business. I was waiting for the light-bulb moment and it all became clear over a beer.
"We were holidaying in the US and visiting lots of really cool brew pubs and small breweries. Our skills were complementary and it made total sense for us to team up and use our experience to start a brewing company together. We launched our first beer together in 2011 and have been growing and building on our business every year since then. We now have 20 employees and a brewery with a tasting room."
The word 'flavour' is the one constant when talking to those in the craft beer industry. Allen points out there are different recipes for everything and different recipes are called on for different reasons, whether it's price consciousness, simplicity of flavour, or to dial up the aromas and flavours. "We're lovers of food and dining experiences," she says, "so we support as many events as we can that give us the opportunity to match our beers with food and talk about the pairings."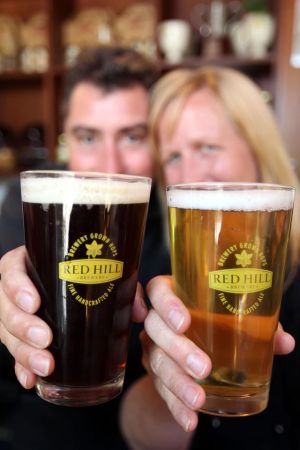 Karen Golding's Red Hill Brewing in Victoria's Mornington Peninsula is totally "paddock to plate".
"We are very artisanal in how we grow our own hops and brew and package everything in-house in our own brewery," she says. "We hope that is what people love about our products, 100 per cent authentic, small-batch craft beer."
When she came into the industry 19 years ago there was very little craft beer in Australia and certainly not in the Mornington Peninsula. "Being lovers of the local food and wine scene, it seemed like a great addition to the region," she says. Golding likes the idea of bringing decent beer to the people.
"Craft covers everything from the most simple, basic entry-levels beers that get people across the line and drinking craft beer regularly, to the rare, triple-hopped, barrel-aged beasts," she says. If it gets people finding a beer they love, and choosing better beer, then it's all good. But she would like to see more beer on menus where the same care is taken with the selection as goes into the wine list. "There should be a variety that includes selections from entry level to challenging styles," she says.
Women are appreciating the beer variations experience and food matching as much as men. "Especially among the under-30s," says Golding. "They have had widely available access to a decade of craft beer. They are definitely growing up having good beer as an option in their repertoire, something that many 40-plus women don't consider. So it is great news that good beer is now shaping the palettes of a wider demographic."
Brewery owner Allen says "easy" drinking beers always win. "It goes hand in hand with our Australian climate and lifestyle," she says.
While Golding believes beer should at least be an equal in the gastronomic experience. "The options for choice, no matter the type of venue… fine dining, pub, bar, liquor store… should provide equal weight to the quality and range of beer as other categories. I love being able to have the choice of sherry, whisky, wine, gin, and of course beer, depending on what I am eating, the weather, the company, and the time."
Allen brews with the best-possible ingredients to showcase beer in a full-flavour way, with no compromise.
As females they revel in the craft beer industry's gender equality. As Allen points out: "It's the only approach we know. We do what comes naturally and have never considered not being true to ourselves." Two Birds celebrates its sixth birthday this year. "We've just completed an expansion and are looking forward to having full control of our destiny and growing our distribution," says Allen. "We'll be putting out some of our limited-release batches in bottle format for the first time this year also, which is exciting."
Golding doesn't even think about gender. "The industry has always been very open and supportive of our business," she says. "Many, many, many of the small breweries in Australia were started by couples, and many just by women, so there has always been a very strong female presence in the industry and I certainly feel that nothing would change." Business at Red Hill is strong and Golding is always seeking better ways to operate. "We have great beers and long-standing staff," she says. "Overall it's a good story and continues to grow every year."