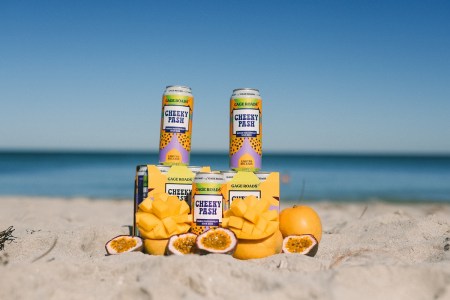 Gage Roads Brew Co and Tangaroa Blue Foundation have again teamed up to create a new limited release brew, with part proceeds helping fund the marine not-for-profit's efforts to keep our coastline clean.
Cheeky Pash Mango Passionfruit Sour is a collaboration that pours for a cause, with money from every can sold donated to Tangaroa Blue Foundation and the Australian Marine Debris Initiative (AMDI) Database, a key-program coordinated by the national not-for-profit.
Gage Roads' Mimi Crompton said it's a cause close to the brewery's heart.
"We first came together with Tangaroa Blue a couple of years ago with a collab limited release beer, and since then have been taking part in annual beach cleans across the country. It's awesome to continue working with a crew that is so dedicated to such an important cause.
"Gage Roads was born out of a love for the coast and the good times it brings, so it's important for us to help protect the places that means so much to us. Money raised from sales of Cheeky Pash will go directly to Tangaroa Blue's AMDI program, which does incredible work improving ocean health."
Through a network of volunteers across Australia, AMDI monitors the impacts of waste along our coastlines. Coordinated by Tangaroa Blue Foundation, the program was launched in 2004 and has since removed more than 21 million pieces of debris (2006 tonnes) from Australian coastlines and waterways. But it doesn't stop there. The debris are collected and categorised into AMDI, to allow key litter items to be identified and sometimes traced back to the source. This independent database, the biggest of its kind in the southern hemisphere, has helped develop over 300 Source Reduction Plans across Australia in collaboration with local councils and community groups.
"We are so grateful as an organisation to have the support of the Gage Roads Brew Co family," WA project coordinator Casey Woodward said. "It's always so heart-warming working with companies that align with our values and want to support our continued work in the marine debris space. The crew are super genuine and engaged with our story and we always have a great time fighting the good fight alongside them!"
Released in 500ml cans and on tap, the 4.0% ABV Cheeky Pash has been brewed with real mango cheeks and passionfruit.
"After the success of Party Wave Stone Fruit Sour last year, we were beyond excited to brew a new sour as the weather starts to turn up. Using real fruit means Cheeky Pash brings a big mango vibe, with the passionfruit backing that up really well. It's tart but balanced, and I just love the drinkability of this beer. I'll be enjoying this brew anywhere the sun is shining," Gage brewer Cam Parker said.
This is an edited version of a media release distributed by Gage Roads.