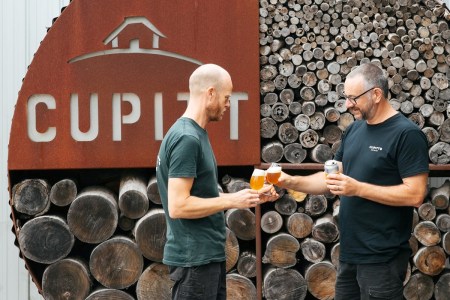 While Cupitt's Estate's beer brewing dates back to 2014, the multi-faceted winery in Ulladulla on the NSW South Coast is celebrating its 15th anniversary this month with a series of long table events.
The family-owned and run hospitality and tourism operator and producer of wine, beer and cheese will mark the milestone with the public on October 22 and 23 where the celebrations commence with a dinner party at the Cupitt's Estate Restaurant before a lunch the following day.
Rosie and Griff Cupitt established Cupitt's Estate in 2007, guided by the principles of Slow Food and with the intention of producing local wines to accompany regional food. Through Rosie's regular travels to Europe, she was inspired by how they celebrated regional food and wine. In turn she founded the Slow Food Shoalhaven branch to bring that ethos to the local community.
Rosie said: "We supported the Slow Food principles of 'good, clean and fair', but also wanted to create an atmosphere where people take an interest in what they eat and drink and a place where people can slow down and connect.
"We opened Cupitt's in 2007 with a long table lunch to celebrate the regional food and wine with the community as a family, people dining together as strangers who become friends by the end. For me, long table lunches are the perfect way to enjoy food and wine, have fun with family and friends, and make new connections with people who love food and wine. We hosted several long-table events every year until the pandemic started. It is going to be great to welcome them back."
Following the establishment of the winery and restaurant, Cupitt's added their brewing operations in 2014 and an artisanal cheese factory in 2016. The 15th anniversary events also mark a year since Cupitt's launched a luxury accommodation arm of their business.
Tickets include canapes, wine and beer on arrival, a shared three-course feast with paired wine and live music.