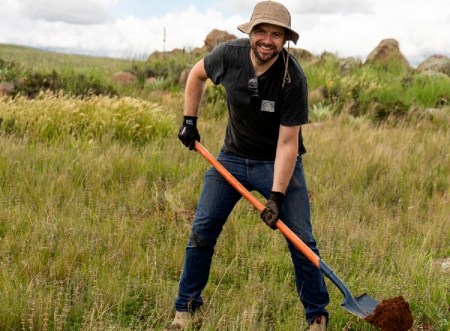 Continuing its dedication to protecting the environment, Canberrra-based independent craft brewery Capital Brewing Co. will be planting over 1,500 trees on October 16 to celebrate the second year of its Trees of Tomorrow initiative in partnership with Jindabyne-based environmental charity Keep It Cool. (Details about how you can get involved are below.)
Forming part of Capital's ongoing efforts to offer "Good Natured Brews" and following its recent success of becoming carbon neutral and B-Corp certified, Capital has exceeded the number of plantations to that of last year and is well on its way to achieve its target to plant 5,000 trees in the Snowy Monaro region after launching the initiative in 2021.
Capital's sustainability director Dan Watters said: "The Aussie high country holds a special place in the hearts of our entire brewery team. Most of us grew up exploring the Snowy Mountains, back-country skiing, hiking and appreciating the great outdoors. However, we have and are witnessing some significant changes to the landscape as a result of climate change and land clearing. Trees For Tomorrow is our way of restoring a small part of the Australian high country".
As part of the partnership, Capital has pledged to plant one tree for every case and two trees for every keg of beer sold in the Snowy Mountains over the Winter season with its "buy beer, plant trees" message. The trees will draw down carbon and create new habitats for wildlife, reduce soil erosion, and increase biodiversity and the recovery of species under threat such as Eucalyptus Viminalis (Ribbon Gum) which has been subjected to significant dieback in the Snowys.
For Capital co-founder and managing director Laurence Kain (pictured above), Trees For Tomorrow was an intentional steer away from the traditional "buy a beer, get a beanie" style promotions that often put more waste in landfill.
"Our environment is so important to us as adventurers so it was an obvious choice to partner with Keep It Cool to make a positive impact in the long term," he said.
Lucas Wilkinson, founder of Keep It Cool, said: "It's fantastic to see more than double the amount of trees being planted this year. Sharing our passion for the great outdoors, Capital and its customers have proven to be a wonderful support to help restore and regenerate land through our tree planting program. We look forward to an even more successful season next year."
Laurence added: "Trees for Tomorrow is not just something we say we are going to do, it's something we are actually doing. We want people to come out and get around it with us, so we're inviting our friends, fans and customers to come out with us and help on the planting day itself".
To get involved with the planting day on October 16 between 9am and 3pm, where there'll be a BBQ and some free beer on offer for volunteers, or to participate next year, contact Liam Thomson on 0412 758 804 or at liam@capitalbrewing.co.
This is an edited version of a media release distributed by Capital Brewing.