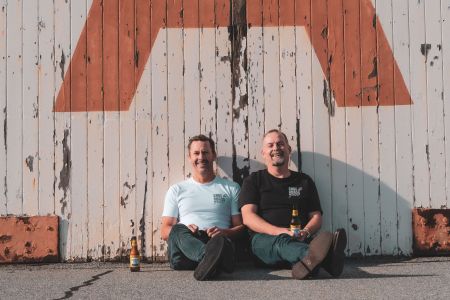 Gage Roads Brewing Co has announced it plans to build its spiritual home in Fremantle overlooking the strip of ocean that inspired the brewery. Work will begin in October with a view to open the venue doors in the Summer of 2021/2022.
The Gage Roads Brewery will be built inside Victoria Quay's iconic A Shed and the company said it will bring new life to the area while respecting the building's heritage. The jarrah-framed and weatherboard A Shed was built in 1925-26, replacing an earlier goods shed on the site constructed in 1905. It has most recently been used by the adjacent WA Maritime Museum for office space and exhibits in storage.
Gage's family-friendly venue will include a working micro-brewery, restaurant, bar and al fresco area, with a focus on promoting WA to locals and visitors alike. The venue will also incorporate a children's play area, themed to the site's nautical history.
Gage Roads Brewing Co's chief operating officer Aaron Heary (pictured above on the left, with managing director John Hoedemaker) said the team are honoured to build its first ever WA venue on the historic Victoria Quay site, helping to shape the next phase of development for Fremantle.
"Fremantle and Victoria Quay is a place Gage Roads is closely connected to. More than 15 years ago, two brothers and a couple of mates had an idea to create a new iconic WA craft brewery," he said.
"Our name, Gage Roads was inspired by the stretch of ocean that separates Rottnest and Fremantle. It's a special place for all of us and it inspired our brewery. Now we're proudly taking the next step and we can't wait to bring our spiritual home to life, overlooking the stretch of water that started it all.
"Since 2004, we've been brewing beer just outside of Fremantle, but we've never had the opportunity to open our doors to the public. The Gage Roads brewery at A Shed is our first ever venue here in WA, and we're excited to soon be able to swing open our doors, welcome people in and show them what we're all about.
"Gage Roads is proud to bring new life and investment to Victoria Quay. Just like our beer, we value approachability and community. We love bringing people together. And that's the cornerstone for this brewery and venue. It will be a place for locals, tourists and good times."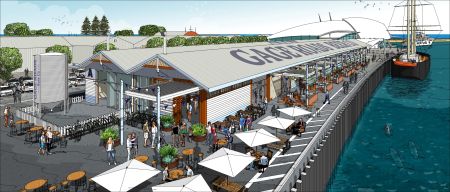 The Gage Roads Brewery will come as great news for Victoria Quay and Fremantle at a time when the state is looking at new projects to drive investment. Gage said the development will lead to more local jobs, on top of the more than 80 West Australians currently employed by the local brewer.
"Gage Roads is a true West Australian success story and our beers are enjoyed right across the country. Our family-friendly brewery and venue will see an increase in visitors from Perth, WA and beyond to Victoria Quay and Fremantle," Heary said.
"This destination venue will also provide confidence for others to invest in the area in the future, adding to the local offering.
"The Gage Roads Brewery at A Shed is the first plank in the revival of Victoria Quay. This is a historically rich site and we are committed to retaining that throughout this venue, while helping to drive the next step in its future."
When operating, the brewery will source barley for its beers from WA farmers, while the kitchen will champion local produce from around the state. The venue will also feature beer from regional breweries across WA, helping to introduce their products to a wider audience.
Gage said the brewery and venue will feature their well-known favourites alongside a range of special release beers.
"The brewery will really spark creativity and lead to some amazing beers. Our brew team will have the capability to innovate, collaborate, try new things and push boundaries. That's something that will really appeal to beer lovers, with constantly rotating list of special release beers sitting beside our core range or brews."
Contact Beer & Brewer by clicking here to share your news and views.