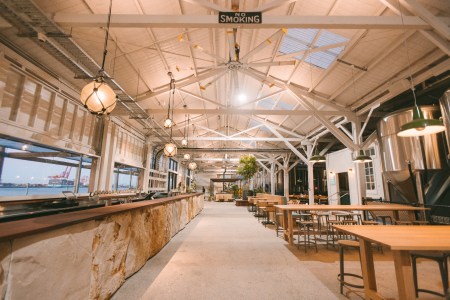 More than 17 years since launching Gage Roads Brew Co will finally open its first ever venue today as they welcome the public to Gage Roads Freo on Fremantle's Walyalup Waterfront.
Housed in the 1926-built and 100 metre-long "A Shed" building, the brewery, restaurant, bar and family-friendly venue overlooks the stretch of ocean that separates Rottnest Island and Fremantle which first inspired the brewery.
Having been with Gage Roads since day one, chief strategy officer Aaron Heary (pictured below) said the location of their new home was a "special place".
"It was always an ambitious project converting an old heritage dockside shed into a fully operational brewery, bar and restaurant. But we've always loved a challenge,' Aaron said.
"Gage Roads has been around for more than 15 years, but we've never had a place to show people what we're all about. That's what's so exciting about Gage Roads Freo.
"We're pumped to throw the doors open, get the good times flowing and bring our spiritual home to life to show everyone who we truly are."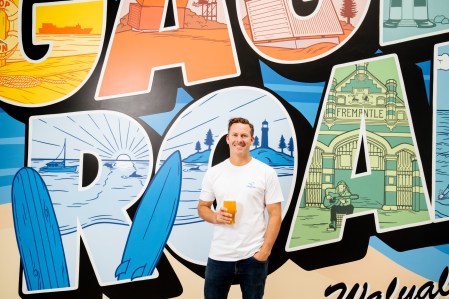 Inside is a 25-hectolitre, 16 tank brew-kit which will be crafting the full Gage Roads range, with beers pouring direct from tank to tap, as well as a rotating list of brewery-only exclusive brews. Gage Roads Freo head brewer Simone Clements is kicking off with two brewery exclusives, including Hazy As Tropical Hazy Pale Ale and Off the Wharf Red IIPA, with a third brew, Tropic Wonder Pineapple Mango Sour, being tapped in early February.
Simone said: "The first three limited releases are beers I truly love. And they're tasting great! Craft beer lovers will be excited to try something new that's only available for a limited time, while Gage fans will be able to lean into their adventurous side and give something new a crack."
Housed near the brew-kit is the original heritage listed clerk's office. Originally used over the decades by the manifest clerk to tally the goods and cargo that arrived at port, it's now known as "The Green Room." Inside, brewers will hold tastings, while the room will also host special events and private functions.
The main bar is built with local Donnybrook sandstone while the bar top has been crafted with recycled Jarrah reclaimed from the venue. Much of it was sourced after reinforcing works on the wharf. In fact, half of the "A Shed" stands over water, and the other half sits over land. The main bar runs 17.5 metres long and stands in front of massive floor-to-ceiling windows that frame an impressive view of the Fremantle harbour and port.
Alongside a local produce-focussed menu and Andy Murphy and Chris Nixon murals, the venue caters for kids via the likes of a retired crayfish boat and 1960s LandCruiser that have been reworked as play equipment.
With a capacity of 1,500, Gage Roads Freo will be open Monday to Sunday 10.30am until late.