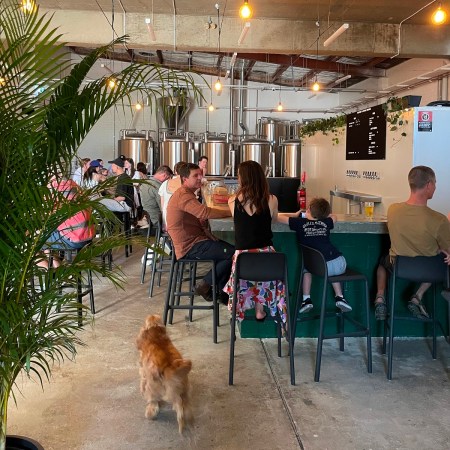 The future is here and you'll be happy to know it's full of flavourful and very drinkable beer.
Future Brewing opened its doors late last week on May Street in St Peters to become the latest venture to add its character to the Inner West of Sydney's rich craft brewing scene. Brickworks Brewing is on the same street, Willie the Boatman is around the corner, Yulli's is a stroll across Sydney Park away while The Grifter, Wildflower, Philter and multiple others are mere minutes to the west.
In terms of what the new brewing company will bring to the area, it's all in their name.
"The name 'Future Brewing' comes from us looking to take a lot of experimentation and innovation from the likes of America and bringing that here," co-founder Brady Hannett told Beer & Brewer.
"We're going to be doing lots of different beers and experimenting with lots of new products, but our focus is very much on hoppy beers – both West Coast and hazy styles. I think what we're trying to do is create very clean, really drinkable, sessionable styles that are still full of flavour and balance."
With a pilsner currently lagering in tank plus the next four beers in planning (and hopefully in package come November), Future Brewing's launch line-up is a West Coast pale ale, a WCIPA and hazy versions of the same styles.
Brady's partner Laura Howard is also a founder and the two have had beer written large in their stars ever since taking a trip back to her native US in 2014. By 2018, with the craft beer bug well and truly caught after Brady had started home brewing and completed a number of short brewing courses, the two had packed in their corporate jobs in Sydney and were headed back to the States. Brady would go on to finish the Master Brewers Certificate Program at UC Davis on America's West Coast before brewing with the much-acclaimed Alvarado Street Brewery in Monterey.
Originally from Sydney's south coast, Brady said the start-up focus is on using their Spark 10 hectolitre two-vessel brewhouse to serve the 12-tap venue and their local community, with any ideas of expansion far down their list of goals.
"We want to stay relatively small and essentially not even have a core range of beers, but rather have some styles of beers that we like and keep rotating and experimenting with the latest hops or hop products.
"We don't have any plans on opening a separate production facility or really any plans to sell beer in any kind of capacity to pubs and bottle shops. We very much want to sell it out of our taproom and online store and just make sure that it's fresh and in the best condition."
'It's been a long road to get to this point'
Having since moved back to Australia from the US with the intentions of opening a brewery, Laura and Brady announced Future Brewing way back in April 2020, saying it was coming "soonish" to Sydney.
Much has changed, and been endured, in the intervening 178 weeks.
Originally, they had their hearts set on being located on the bustling King Street in Newtown. But following lease negotiations and beginning a DA process it was discovered the heritage listed building they wanted to establish a brewpub in had major structural issues. It didn't help that the owner wasn't willing to spend the money to get it back to where it needed to be.
"So we were like 'we haven't put too much into this, let's walk away while we can'," Brady told us. "And then we started looking for another site, found this one and started that whole process again.
"In terms of foot traffic, Newtown would have been better than where we are now but it would have meant a smaller taproom and a smaller brewing area. So I think it's worked out better. We've got a bigger taproom and enough space for a decent amount of brewing equipment.
"It's certainly been a long road to get to this point, but we're just super excited to be open and pouring some beers."
Future Brewing is at 82 May Street in St Peters and they're open Thursday 4pm to 9pm, Fridays and Saturdays 12pm to 10pm and Sundays 12pm to 8pm. Food is currently available by ordering delivery via Epic Pizza in nearby Enmore to the brewery.