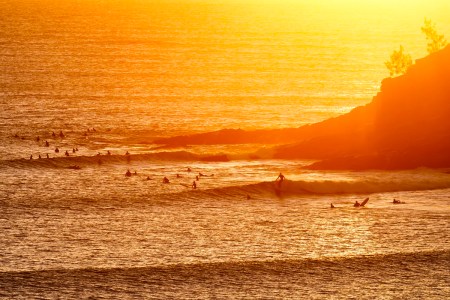 The Sunshine Coast and Noosa Beer Trail, or Australia's Craft Beer Capital as recently claimed by the local tourism body, is home to 21 breweries and counting. This is no insignificant feat considering in 2016 there was only one, and the local population is just over 300,000. Perhaps there is something in the water, or maybe it's the gravitational pull to embrace the amazing beaches and lifestyle on offer? We dive deeper into the incredible growth of breweries and quality beer being produced in the region with local beer tour operator Josh Donohoe as our series of definitive looks at Australian beer destinations continues.
---
Moving to the Sunshine Coast from Sydney in 2016, there really wasn't much not to love about the region. Amazing coastline and beaches, hinterland ranges, fresh local produce, relaxed lifestyle, and the word "traffic" wasn't even part of the local language. But despite all the amazing things on offer, there was something I was missing – a distinct lack of locally produced beer, brewpub venues and a national footy team. Regardless, I put the small details aside and set up digs.
The region definitely had some history in local breweries however, with Eumundi Brewery claiming first call back in 1988, but sadly this ended in 1991 as it went bust and closed up shop. The beer continued to be brewed under licence by CUB, before disappearing off the radar and lying dormant until recently coming back to life in 2017 with the support of Chuck Hahn, Lion and the Imperial Hotel. A few years later in 1993, Sunshine Coast Brewery opened its doors in Kunda Park, which is now owned by local legend Greg Curran and has now ticked over its 22 years of beer service. This was the only local brewery in the region when I arrived, and while it had its presence on tap in a few local bars, the sad reality was that most venues were pumping out XXXX and had little interest in craft beer that may have upset the status quo of the local drinkers or cost a few dollars more than their subsidised kegs and tap contracts.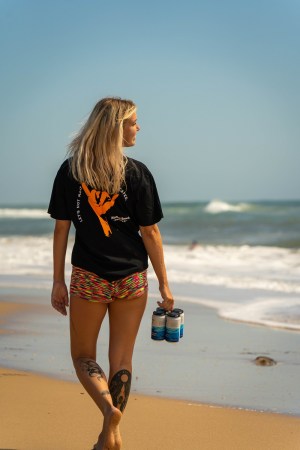 Fast forward to 2016 and we had the likes of Moffat Beach Brewing and 10 Toes Brewery kick off their entry to the local beer scene.
Moffat Beach, or Moffs as it's known to the locals, already had a great beachside venue and were selling some decent Australian craft beer through their taps. The next step for them was to put in a small brewery of its own in the vacant space at the back of the venue and start making and selling their own beer.
Right on their heels was 10 Toes opening their industrial space in Alexandra Headlands tucked behind car dealers and 4WD retailers. I clearly remember sticking my head under a partially open roller door to see what was going on and met owner Rupert who had pieced together a Frankenstein kit but had some big plans for the future.
Next to the market was Brouhaha Brewery who were setting up shop in the hinterland town of Maleny. They not only had good beer in mind, but restaurant and food offering to match in their plans as well. As a beer fan, and local tour operator, I was optimistic about the announcement of their brewery opening, and the idea of setting up a business within our existing tour company to focus specifically on brewery tours was starting to form.
With these four breweries, and a few decent local craft beer bars on the scene – TAPS Mooloolaba, Black Bunny (sadly no longer with us), Village Bicycle and Moto Bar in Noosa, I could feel a disturbance in the force, and that something big was about to happen.
The next few years saw multiple new breweries arrive on the scene spanning across the region, from Caloundra in the south, Maleny in the Hinterland, Kenilworth and Eumundi in the west, up to Noosa, Cooroy and Cooran in the north.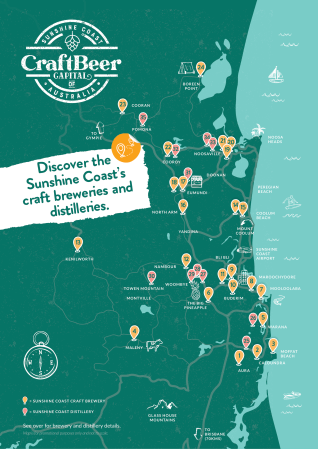 Today we have 21 breweries, some of which have multiple venues and a range of unique offerings – from big industrial spaces to small country town pubs and rural spaces. Soon to be added to the list will be Coolum Beer Co and Matso's Eumundi.
After many years of promotion through my own tour business, the collective support of local breweries and a parochial following from local beer drinkers, the local tourism body also started to believe that there might just be something in beer tourism. In late 2020, the marketing team from Visit Sunshine Coast helped us stick the flag in the ground and claim the title of the most breweries per capita – and the title of "Australia's Craft Beer Capital" was born.
Now while this title may be disputed by other great beer regions, and I might be just a little bit biased, I truly believe that this region has more breweries, more passion and more unique offerings than anywhere else. But you'll have to come to judge for yourself!
And in case you were wondering, this Ale Trail adventure doesn't cover all the breweries that feature on the trail, simply because we didn't have the space. But we've tried to give you as much of a taste of the area as we can, to tempt your tastebuds even further so you book that trip sooner rather than later.
visitsunshinecoast.com/craftbeercapital
---
Heads of Noosa
The big boys on the block with a quality product to back up the credentials. The Japanese Lager has become a local staple in restaurants, bars and surf clubs as the far superior and preferred alternative to mainstream lagers. Owners and brothers, Craig and Lance Masterton have quietly gone about their business with the goal of creating exceptional lagers, and through purchasing a quality German brewhouse have proved that there is a space in the craft market for quality lagers. The Taproom showcases their full line-up of German inspired styles including pilsner, amber, mid-strength and various small batches on tap. Keep an eye out for their limited releases such as Imperial Japanese Lager, Baltic Porter and Japanese Black which all have that quality finish that fans have become accustomed to. There's also a great food selection, live music and a cut out window to view the stainless steel forest that fills their warehouse location.
85 Rene St, Noosaville
headsofnoosa.com.au
---
Land & Sea Brewery
It's hard to miss the imposing venue and signage from the street that surrounds an incredible interior of the venue that houses not just a brewery but also a distillery on site. The brewery opened its doors in 2017 and the distillery appeared about 12 months later. With those two items dominating the backdrop, along with a classic motorbike collection and surfboards on display, you've got yourself the perfect venue to settle in for a session. Kick things off with their mid-strength Socialiser, then move onto the First Point Pale Ale, before jumping on the Juicebox IPA. From there you've got a choice of plenty of small batch seasonals or switch it up and clean the palate with a flight of gin!
19 Venture Dr, Noosaville
landandseabrewery.com
---
Boiling Pot Brewing
The final side of the equilateral to form the "Beermuda Triangle" with Heads of Noosa and Land & Sea, Boiling Pot started making beer long before the venue was operational thanks to another local brewery helping them get product into the market. They hit the ground running when the venue did open in September 2019, and now offer a laid-back space with a sunny outdoor beer garden to watch the afternoon slip away with a beer or two in hand. The line-up features the flagship Golden Ale which really is Noosa in a can, with a few more of note that have definitely been influenced due to the experience of head brewer Pedro, who is Brazilian born and German trained. The dark lager Bat Migration is a great offering and not too heavy for the warmer weather, as is the very easy drinking 22 Patels IPA, the seasonal Farm House Ale and much loved Guava Sour.
130A Eumundi Noosa Rd, Noosaville
boilingpotbrewingco.com.au
---
Terella Brewing
Breaking with the traditional industrial warehouse set-up, Terella has created a true destination brewery on a rural space that regularly draws huge crowds on weekends. There is room for the kids to roam or enjoy the petting zoo, while the adults supervise closely with beers in hand. Offering 14 taps and a core range of five beers with the remaining taps always presenting a range of traditional and experimental styles. The Mango XPA is a regular and crowd favourite, but you can also expect sours, seltzers, hard cider and ginger beer to provide something for everyone. On a busy day expect four or five food trucks, classic car and bike clubs dropping in, live music, ice cream vendors and a family fun vibe that has to be experienced.
196 Bunya Rd, North Arm
terellabrewing.com.au
---
Your Mates Brewing
Your Mates is by far the most recognised brewery on the coast thanks to an appearance on Shark Tank, their hugely popular Larry Pale Ale featuring in the GABS Hottest 100 top five the last three years running and a record-breaking crowd funding venture. Owners Matt Hepburn and Christen McGarry have grown the business from a tiny start-up to a thriving company that employs 60 staff over two venues. They started their journey as contract brewers, then gypsy brewed out of McLeods in the Hinterland, before opening a small taproom in Nambour and finally launching their own brewpub in Warana. The location is in walking distance to the Sunshine Coast Stadium which is perfect for a pre-match beer. The brewpub venue has Macca, Larry, Eddie, Sally and Donnie on tap, plus it serves up great pub food and live music that creates guaranteed good times. Their BowlsPub in Cooroy offers an old school bowls club feel with a similar tap line-up and food offering.
Brewpub: 41 Technology Dr, Warana
BowlsPub: 5 Opal St, Cooroy
yourmatesbrewing.com
---
Morts Brewing
Well worth the trip to Nambour and a true definition of a hidden gem, Morts is a must visit when on the Sunshine Coast. With a back lane Melbourne feel that has you second guessing the directions from Google maps, you will find a basement style set-up that makes you feel like you've walked into a secret underground beer den. With one of the smallest breweries on the coast, head brewer and owner Jamie Saville (pictured above on the left) continues to produce quality beers across their 10 taps. With no set core range, you can expect an ever-changing line-up of new and traditional styles, ranging from a West Coast IPA, ESB, hefeweizen, oatmeal stout, NEIPA, NZ pilsner, mulberry sour and many more. Invest in a paddle and chat to Jamie at the bar to get the full experience. They're open Friday to Sunday and often feature local live musos in their cosy space.
25 Short St, Nambour (head up the small driveway behind the Green Bottlo)
@mortsbrewingco
---
Noosa Hinterland Brewing
The brewery is based in the small town of Cooran, about 30 minutes from Noosa in a character-filled heritage building that was once an old joinery. A beautiful bar, exposed timber beams and mismatched furniture just add to the relaxed feel of the place created by owners John and Cara. This venue is well supported by a staunch local following of beer fans who truly love their local. You could argue that's just because it's the only venue in a small town, but it's really due to the excellent line-up of beers on tap, incredibly friendly owners, the support they give to other local businesses and a regularly sold-out themed trivia night that fills the place to the rafters with happy punters. The Cooran Crusher is the perfect knock off beer and it's always a pleasure to find the American Wheat and Kaffir Lime Saison on tap to keep things fresh. The Milk Stout is smooth with delicious roasted malts – and keep an eye out for the limited release Barrel Aged Wee Heavy.
28 King St, Cooran
noosahinterlandbrewing.com.au
---
Kenilworth Hotel & Brewery
Located on the western edge of the Sunshine Coast in the popular township of Kenilworth – which is known for its famous bakery and cheese factory – is the Kenilworth pub which is also home to the brewery. Offering old school Queensland country pub charm, it also gives the discerning punter the opportunity to drink local beer produced on site while serving up classic pub fare including a mean schnitzel, burgers and plenty of tasty treats straight from the smoker. They're also currently in the process of upgrading their brewery to keep up with demand from their loyal local following and the curious day trippers who pack the main streets each weekend and school holidays.
18 Elizabeth St, Kenilworth
kenilworthhotelbrewery.com.au
---
Brouhaha Brewery
They opened the doors of its Maleny venue in 2017 in an unsuspecting medical precinct, surrounded by a dental practice, X-ray and pathology clinic. Why you ask? Well, the owner Julian is in fact a dentist who had a vision for a local brewery and set aside a space within a newly constructed commercial block. From there he went about finding a brewer and a team that would elevate the venue to not only produce a range of excellent beers, but also build their food offerings around local produce sourced from across the hinterland region supporting local farmers. The champion is no doubt the Strawberry Rhubarb Sour (which has many offshoots of the same quality, like Watermelon & Lime, Peach, Pear and back in the early days a Lemon Aspen variety). Be sure to sample the core range, with shout outs to the Milk Stout and the tasty imperial offerings of their sours and stouts. The original venue is in Maleny, a production and taproom site at Baringa and a pop-up venue in New Farm (Brisbane).
Brouhaha Maleny: 5/39 Coral St, Maleny
Brouhaha Baringa: 1 Edison Cres, Baringa
brouhahabrewery.com.au
---
Moffat Beach Brewing
The most awarded brewery in the country, and with good reason, as they offer killer IPAs and beautifully balanced pale ales that expertly showcase diverse hop flavours and aromas. The term "punching above their weight" is regularly used to describe the quality of beers coming out of Moffs which started with a tiny 300 litre brewhouse at their beachside location, offering a view of the ocean to complement a schooner in hand. With the well-deserved recognition came an increased demand for their beer which led to the opening of a production site in nearby Caloundra where they installed a slightly larger 2,000 litre brewery. This has allowed craft beer fans across the country to get their hands on some of founder and brewer Matt Wilson's sought after beers. Grab a four-pack "Trophy Collection" or get to personally know the names Iggy Hop, Passenger, Deadbeat Boyfriend, Cereal Killer and Shadow of The Moon at either venue. Food offerings include smoked meats and burgers at the production site and a slightly more upmarket menu at Beachside.
Beachside: Shop 2/12 Seaview Tce, Moffat Beach
Production & Taproom: 51 Caloundra Rd, Caloundra West
moffatbeachbrewingco.beer
---
10 Toes Brewery
The name 10 Toes is clearly a nod to the surfing destination of Alexandra Headlands where the brewery is located. They started their humble beginnings back in 2016 when owner Rupert Hall sourced some ex-dairy stainless for a mash tun and a range of small fermenters that produced a very good range of beers, albeit with some manual labour shovelling grain. From there the brewery and taproom has gone from strength-to-strength and has grown to a full brewhouse upgrade and plenty of additional fermentation tanks that are literally filling the space to the rafters. Hence the new production site which is due to open late 2023. The flagship Pipeline Pale Ale is a sensational beer and it's backed up by a solid core range with some of the best seasonal and limited release beers on the coast. The Culture Kick sours change each batch and the range of IPAs are enough to keep West and East Coast fans more than satisfied. You can always expect a solid line-up of food trucks to feed the beer fans too.
Unit 4/127A Sugar Rd, Alexandra Headland
10toes.beer
---
Sunshine Coast Brewery
The OG on the Sunshine Coast opened way back in 1998 and originally served up just an alcoholic ginger beer, a stout and a lager from their taproom in the industrial area in Kunda Park, not far from Maroochydore. The brewery was bought by current owner Greg Curran, who took ownership in 2006 and has been at the helm ever since. Well respected within the local brewing community, Greg and his wife Brigid continued to run the business and for many years were the only brewery offering locally produced beer to bars and restaurants across the Sunshine Coast. Keeping it in the family, daughter Bernadette is now also an accomplished brewer and influencing the future direction of the brewery. On tap at the brewhouse you can expect to find a range of new and traditional styles, from the rich Rye ESB, Irish Red and the crisp Czech Mate Pilsner. Expect a warm welcome and a decent chat with owner Greg when you roll up to the taproom.
6/13 Endeavour Dr, Kunda Park
sunshinecoastbrewery.com
---
Sunshine Coast Craft Beer Tours
I established the business in 2016 when there were only three breweries and a handful of craft beer venues and I love nothing more than giving beer fans an opportunity to visit a range of establishments and impart some of the local stories and history. The perfect way to cover the vast distances between breweries, the tours offer great value for money with tasting paddles and lunch included.
sunshinecoastcraftbeertours.com.au
---
Check back in soon where we'll continue our definitive looks at Australian beer destinations by taking in the delights on (what we're calling) the West Adelaide Lager & Ale Trail.
The Sunshine Coast & Noosa Beer Trail feature first appeared in the spring 2023 edition of Beer & Brewer magazine. For articles just like it, and plenty more besides, subscribe to the magazine here and buy back copies here.