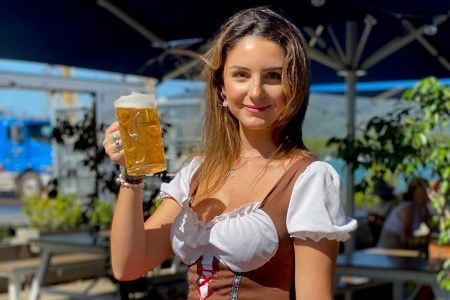 Hemingway's Brewery will host its fifth annual Oktoberfest celebration with a showcase of north Queensland's vibrant craft brewing industry and Bavarian-inspired fun on Saturday 7 October.
From Hemingway's waterfront location overlooking Cairns' Trinity Inlet and in collaboration with local breweries Macalister Brewing, Maggie Island Brewery, Billycart Brewing and newcomer Copperlode Brewing, the festivities kick off from midday, delivering an afternoon of live entertainment from Tony George, keg lifting and stein sliding contests, the obligatory chicken dance, and prizes for the best dressed.
Also, in keeping with Hemingway's Oktoberfest tradition, participating breweries will present a selection of five German-style festival ales, handcrafted to match the extensive, Bavarian-inspired menu laden with giant pretzels, bratwurst, schnitzel, kraut and spaetzle.
Oktoberfest at Hemingway's Brewery is a free, family-friendly event. Festivalgoers are recommended to visit www.hemingwaysbrewery.com to learn more. There are no bookings for this event.
This is a media release distributed by Hemingway's.