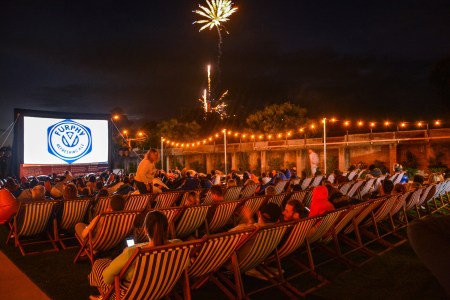 Geelong locals are in for a treat as the Furphy Refreshing Ale outdoor cinema experience returns to the Little Creatures Brewery.
The five-week long special event kicked off yesterday (Wednesday 31 January) with the screening of Chopper; over the coming weeks, moviegoers can attend screenings of other Aussie classics including Strictly Ballroom; Priscilla, Queen of the Desert; Red Dog and Mad Max.
To sweeten the deal, Beer & Brewer are offering a double pass to each of the screenings of Red Dog (21 February) and Mad Max (28 February). Head to our Facebook page to enter.
The Little Creatures Canteen will also open its doors each night for guests to grab a bite to eat pre-screening, or to pick up some finger food to enjoy while kicking back on a bean bag or deck chair in front of the big screen.
Gates open to the cinema from 7.30pm giving moviegoers plenty of time before the 8.30pm screening to find the perfect spot.
Marketing Manager of Furphy, Malcolm Eadie said: "We love to give back to those who have supported us every step of the way. What better way to enjoy the summer weather than watching an Aussie classic at Geelong's own brewery with your mates over some great food and beer."
"The warmer months are the perfect time to get out and relax under the stars. We wanted to create a memorable experience through our outdoor cinema and we can't wait to kick things off in January."
To purchase tickets to the Furphy Outdoor Cinema, click through to eventbrite.com.au – or head to the Beer & Brewer Facebook page to enter the giveaway.