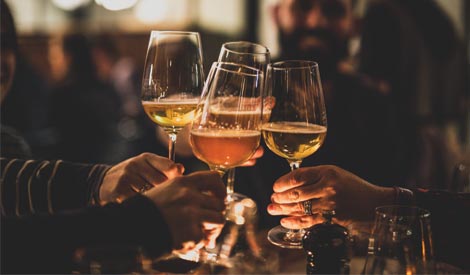 With only three weeks until festivities kick off on Friday, 13 May, Good Beer Week is drawing near for all beer-loving citizens.
While there are plenty of events to splash your cash on, there is also a range of non-ticketed activities across the five streams; Foodie, Beer Lover, Beer 101, Beer Geek and Good Times.
Be crowned Queen or King of Hoptail at Monkey King Pan Asian Bar's biggest competition on Monday, 16 May. With some of the industry's leading bartenders judging the competition, the only requirement is that the cocktail contains some form of beer or hops. The winner will be crowned King or Queen of Hoptail 2016 and have the chance to design a limited-release commercial beer with Dan Dainton at the new Dainton Family Brewery.
Go back to Beer School at Young & Jackson for a week of classes, talks and activities from some of the best beer professionals around. Running from Monday, 16 May until Thursday, 19 May, the classes will run for an hour and involve learning about malt, hops, yeast and water, and how they all come together to create that mouth-watering brew. Of course, the class will involve sampling some delicious beers while the sessions are run.
Little Smith Brewing, Custard & Co Cider and Burn City Smokers are teaming up to provide your favourite combination of tasty booze and smoky meats for Mr Wow's Sunday Summer Soiree on Sunday, 15 May from 3pm at Mr Wow's Emporium. A faux beach, leis and summer tunes will be provided as well as all day specials on tap beer and cider.
For all those foodies out there, Uke Mochi eats a BBQ, drinks Baird Brewer, is a night of beers and Japanese BBQ. Taking place at Dr Morse on Thursday, 19 May, the night will feature limited-edition beers from Baird Brewery and charcoal BBQ Japanese, specially cooked to match the brews.
Combine the best in Hops, Burn & Brine – Boilermakers & Picklebacks at Slowbeer Store & Café on Wednesday, 18 May. The team behind Slowbeer have teamed up with The Pickle Bear to present an unusual match made in heaven through a range of brews, spirits and custom made pickles.
Good Beer Week 2016 will freature 270 events, run across more than 180 venues in Melbourne and Victoria. Visit goodbeerweek.com.au to check out the full range of events.
Good Beer Week's Free Events
Free Entry
Monday, 16 May 7:30PM-late
Monkey King Pan Asian Bar
68 Menzies Alley Melbourne Central, Melbourne 3000
Free Entry
Monday, 16 May until Thursday, 19 May, 2-3PM
Young & Jackson
Cnr Swanston and Flinders Street, Melbourne 3000
Free Entry
Sunday, 15 May 3-11PM
Mr Wow's Emporium
97b Smith Street, Fitzroy 3065
Uke eats a BBQ, drinks Baird Brewer
Free Entry
Thursday, 19 May 3PM-late
Dr Morse
274 Johnston Street, Abbotsford 3067
Hops, Burn & Brine – Boilermakers & Picklebacks
Free Entry
Wednesday, 18 May 6-9PM
Slowbeer
468 Bridge Road, Richmond 3121