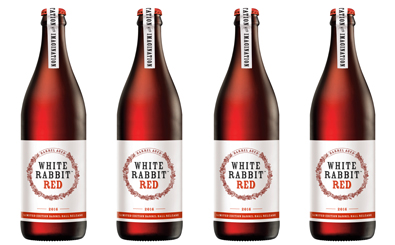 The team at White Rabbit have launched White Rabbit RED, the first beer to come from their specialty Barrel Hall program at their new brewery in Geelong.
White Rabbit RED has a 4.9 per cent ABV and is available on tap at the Barrel Hall and a select number of venues in Victoria.
"White Rabbit RED is 'barrel aged' which means it's a subtle blend of two beers; the first has been carefully aging in wooden oak barrels for an extended period of time, allowing it to take on a depth of flavours. A portion of this is then blended back into a fresh, young beer – the end result is a diverse combination of tart cherry and red-wine like complexities," said White Rabbit head brewer, Jeremy Halse.
"The journey of this beer started a couple of years ago at our original home in the Yarra Valley region where we sourced some previously loved wine barrels from our mates at Innocent Bystander. It's been a long time in the making but we couldn't be happier with where we have landed with the beer."
With sour beers becoming more popular in Australia, White Rabbit's venture into barrel aged beers is well-timed.
"Barrel aged, sour and tart beers are really taking off in the USA and we are starting to see the trend filter down to Australia. They are very different to beers we know in the Australian market. With their similar characteristics to wine and their ability to be matched with food they are great for those who would not normally drink beer, or are looking for an alternative to wine," explained White Rabbit marketing manager, Ash Cranston.
White Rabbit RED is the fourth variant in the White Rabbit portfolio, joining White Rabbit White Ale, White Rabbit Dark Ale and White Rabbit Pale Ale.
The White Rabbit Brewery and Barrel Hall is open Sunday to Thursday: 11-5pm, Friday to Saturday 11-9pm and is located on the Little Creatures Village, 221 Swanston Street, South Geelong.