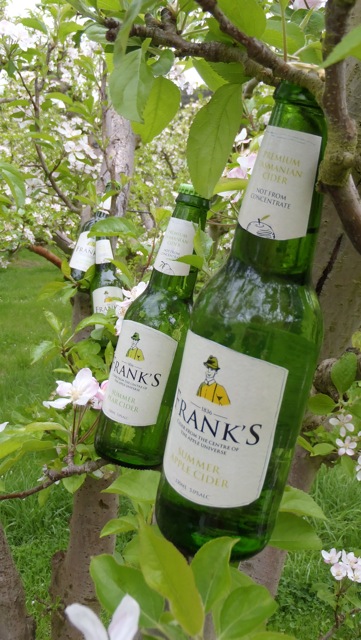 The Franklin Cider Co. will officially launch this month, with the Tasmanian brand looking to bring the taste of homegrown premium cider to the market.
The brand is a collaboration between vigneron Julian Alcorso and Tasmania's Woodside Orchards, and will see the release of two permanent offerings of Summer Apple and Summer Pear ciders. In keeping with current flavour trends, there will also be seasonal varieties released including some fruit wine offerings including cherry and strawberry.
According to Naomie Clark-Port, Franklin Cider Co.'s Joint Managing Director, the brand is aiming for a very specific niche in Australia's $300 million marketplace. "Both industry statistics and our own thorough research identified two distinct ends of the cider market – craft or handmade at one end and premium high volume at the other," she says. "Many new Australian cider products fall into the craft/handmade category. We are lucky enough to be able to combine our access to large quantities of premium raw ingredients with best practice high volume manufacturing to be a player at the premium, high volume end of the market."
Prior to launching the brand tested itself at the 2012 Australian Cider Awards, walking away with an impressive Best in Class for its Frank's Sweet Perry Summer Pear Cider and bronze medals for pre-release Frank's Summer Apple and Pear Ciders.
Julian Alcorso is the man behind the cider and responsible for turning Woodside's fruit into premium cider. Discussing the process, Alcorso says that like wine, the quality and depth of a cider's flavour is a direct result of the trees. "In Frank's case, we use quality tree-ripened apples, some from trees dating back over 100 years, first planted by Naomie's great grandfather, Frank Clark," he says. "Our no-concentrate ciders are an experience since they deliver a very distinctive just picked fruit taste, testing extremely positively amongst our target audience" he says.
With a national distributor stitched up, Domaine Wine Shippers, and some high-profile stockists in the bag, Frank's Cider is taking no chances, dedicating $500,000 to launch the brand via a digital, event and social-led marketing program. With a lot of money to be made, and a lot of new cider launches this season, the competition for the drinking dollars of the Australian public is hotting up.
Frank's Cider is available in 330ML bottles with an RRP of $5.50 for both varieties. The cider is also available in a Four Pack and 30 litre kegs. For more information see www.frankscider.com.au.