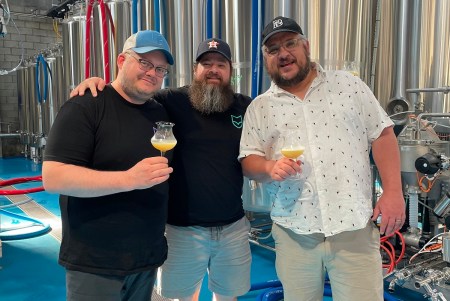 Brewery Fox Friday has acquired Melbourne's award-winning craft beer retailer and bar Carwyn Cellars.
The Thornbury institution, that marked 15 years in the game last year, now joins the Tasmania-based brewery's rapidly expanding portfolio that includes their original Hobart brewery, a taproom in the same city plus soon-to-be open venues in Melbourne and Perth. They also recently purchased Tasmania's Moonah Hotel and Cellars.
The parties said no changes are planned for the day-to-day operation of Carwyn Cellars or its existing team, with Fox Friday expressing an interest in expanding the bottleshop-bar concept interstate.
"We're excited and very honoured to be a part of Carwyn Cellars, a place that has been around for a very long time and built itself a wonderful name," Fox Friday co-founder Benny Hooper said about the venue founded by Ben Carwyn in 2007 and that is Beer & Brewer's reigning best beer venue of the year. (Ben Carwyn is pictured above on the right, with Fox Friday brewer Justin Corbitt, left, and Benny Hooper.)
"Hats off to the team, and what Ben and Nicole Carwyn, and Ben Duval, have achieved over the last 16 years. I think what they have achieved in the craft world is just amazing. When you think of craft beer in Melbourne, and even around Australia, you think of Carwyn Cellars, with the likes of their Black Box and the Canvent Calendar."
Ben Duval from Carwyn Cellars added: "The partnership with Fox Friday came about very naturally. We have become friends with the Fox crew through various projects and collaborations over the last couple of years. We approached them casually to see if there was any interest and the rest is history.
"The opportunity to work with one of the most exciting beer brands in Australia is pretty cool. We're in disbelief of what Benny and the Fox team have achieved in such a short space of time and we're thrilled to join the family."
Fox Friday's Benny Hooper went on to say that the acquisition of Carwyn Cellars would allow them to build its presence separately to their brewery operations and enable "synergies across the Fox group".
"We will look to expand and maybe move into different states, we have touched on it briefly but there is definitely opportunity if it's the right place and the right time," he said.
"We want to keep the fabric and stay strong, then look to opportunities outside of what's already in place.
"I just want to work with the best in the industry, and by doing something like this we're enabling ourselves and our team to continue being able to do that."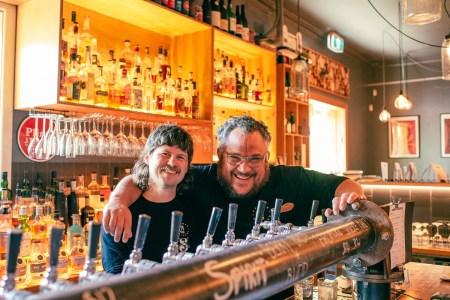 Since its inception, Carwyn Cellars has earned a legacy as a leading craft beer operator. Ben Duval (pictured above with Ben Carwyn) spoke about the evolution of business and what the acquisition will mean for the retail store.
"When I started over 10 years ago, it was just a bottle-o that dabbled in what craft was available. Over time, we managed to move locations, add a bar, a kitchen and the whole online side of the business, which has really brought us national attention.
"Some epic highlights come to mind, from big US launches like Side Project and Bottle Logic to unique and boundary pushing events like our 24 Hour Bakery, Midnight Sour and the Carwyn Collaborational.
"The entire Carwyn management team and staff are staying on, so don't expect any noticeable changes initially. Going forward however, this will allow us to achieve certain things that we have always wanted to do, but have put on the backburner since the start of Covid. Think festivals, some direct importing and a few other special projects.
"We've tried to strike a balance between supporting the best of local craft and the best we can get our mitts on from abroad. We've always championed independent only, but the most important thing for us is quality. We'd like to think we've helped grow some of the best beer brands in Australia over the years, it's been fun."
"I feel confident that Fox will continue, and grow, the legacy that the Carwyn team have worked so hard to build. We are very similarly aligned, in fact scarily so, expect big things."
The original version of this story ran on our sister site theshout.com.au. You can subscribe to their newsletter here.