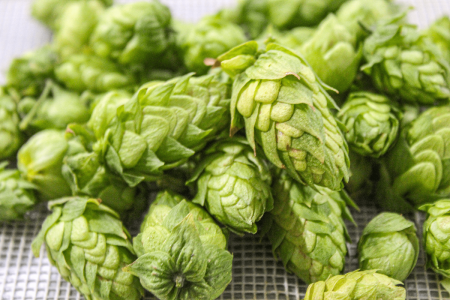 Yakima Quality Hops has introduced its newest proprietary hop variety Elani™ that boasts tropical notes of pineapple and guava along with white peach and citrus aromas of tangerine, lime and orange zest.
Pronounced ee-LAH-nee and formerly known as YQH-1320 EXP, it has been frequently described as clean and bright and has found favour among brewers in hop-forward beer styles such as West Coast IPAs, hazy IPAs and pale ales, among others. Its mid-range alpha acid content and high total oils provide brewers flexibility to use the variety alone or in combination with other impactful hops. Suitable for both whirlpool and dry-hop applications, Elani integrates seamlessly into brewers' hop bills.
"Elani has been such a versatile hop for us," Geoff Belcher, head brewer for New Realm Brewing's Charleston location said. "It shines very well by itself and plays extremely well with others.
"With big citrus notes and nice tropical undertones, you can expect to see Elani becoming a staple in many future recipes!"
Joe Pawelek, brewmaster for Wicked Weed Brewing, agreed.
"Elani is truly multi-functional, whether it be hot-side, cold-side, or preferably both," he said. "Elani exhibits aromas of mango, blueberry, citrus, and cantaloupe. The hidden undertones of dank resin, papaya, and juicy fruit give it the ultimate title at Wicked Weed as the best
single-hopped beer we have ever produced. Layered with your favourite hops, Elani will stand out and fit in all at once."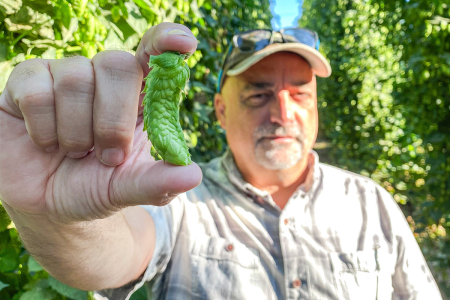 Yakima Quality Hops owner Tim Sattler (pictured above) discovered YQH-1320 EXP in Idaho's St. Joe River Valley, an area he often explored on family outings as a child. This region boasts a rich brewing history with late-19th century and early-20th century miners and loggers frequently brewing beer using hops cultivated near their camps. YQH-1320 EXP likely resulted from an open cross-pollination of these hop plants.
After years of observation, Tim brought rhizomes back to the Yakima Valley for further testing and development. DNA results confirmed YQH-1320 EXP is genetically unique and the new variety is patent pending with approval expected in the coming months. With more than 70 acres under cultivation, YQH-1320 EXP is now available to the world as Elani Hops.
"Releasing Elani feels surreal," Tim said. "It's a once-in-a-lifetime opportunity to have a great variety that fulfills the needs of growers, dealers, and brewers. I'm excited to continue working with brewers to meet their expectations of an outstanding aroma hop that is consistent year after year."
The name Elani is derived from Melanie, Tim's late sister and the mother of YQH vice president Lee Rottweiler.
"We chose Elani primarily as a tribute to my sister, Melanie, whom we lost in 2011," Tim explained. "Melanie was a beautiful, loving, caring, and immensely strong woman. YQH is very much a family business, co-owned by Lee and myself, and it felt appropriate to name our flagship hop after one of the most important and influential people in our lives."
Rottweiler shared YQH's intention to keep Melanie's kind and generous spirit forefront as they share Elani with the world.
"Our joy working in the craft community has always come from building relationships, from finding ways to support our hop growers and our brewing partners," he said.
With recent weather patterns continuing to challenge the hop industry, high yields and outstanding heat tolerance make Elani suitable for diverse growing regions. At present, the variety is cultivated by CLS Farms, Leo Gasseling & Sons, and Gooding Farms.
This is an edited version of a media release distributed by Bintani.