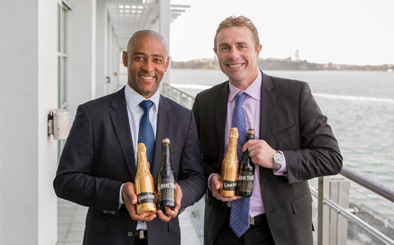 New Zealand brewer, Moa Brewing Co., has waited four long years to launch its latest beer crafted in 2011 to celebrate the All Blacks winning the Rugby World Cup.
An ode to the phrase George Gregan coined when the All Blacks took a crushing defeat in 2003, head brewer David Nicholls settled on a bold, dark stout called Four More Years to be launched in line with the 2015 Rugby World Cup.
It struck him that England is half way around the world and frustratingly 12 hours behind, so the brew would need an added kick to keep Antipodeans awake in the wee hours of the morning. An infusion of coffee beans was the answer, adding a subtle caffeine hit and making the beer perfect for those getting up early (or staying up late).
Guatemalan coffee beans were selected with the help of boutique Marlborough roasting company, CPR Coffee. A tasting session turned Moa founder Josh Scott into a hyper-caffeinated coffee pro, feeling confident they've selected the finest quality beans for the brew.
"The Guatemalan beans were chosen because of their low bitterness levels, high aromatics and low oil content. The result is subtle yet there is a definite energising kick," said Scott.
The brew has been aging in French oak barrels for four years, a timely nod to the French team who bowed to New Zealand in the 2011 final.
The gold wrapped bottles are available now and are extremely limited, with only 444 crafted. For more information on how to get your hands on a bottle of Four More Years email here.
FOUR MORE YEARS
Style: French oak aged and Guatemala coffee infused imperial stout.
Tasting notes: Big robust beer, like a gutsy red wine. Rich dark roasted malt and leather characters, all infused with a delicate coffee aroma that exudes a typical freshly roasted coffee and handmade chocolate flavour.
ABV: 12.1%
Size: 375ml
RRP: $20.15