Arguably the coolest kids in town, IPAs are delicious all year round. We ask the brewers for the rundown on their beers and what to match with them.
(1) FIGJAM IPA
FIGJAM is all about balance! IPA is a style that is growing quickly, with many hopped-up, toe-curling versions popping up. Equally, there are a number of 'session' IPAs that don't whack you over the head with hop bitterness, but neither are they truly in the alcohol and bitterness range to be classified as an IPA. FIGJAM hits all the right notes – striking a finely balanced flavour profile, while also boasting genuine IPA stats – 7% ABV and a full 70 IBUs. FIGJAM IPA is every bit as good as it thinks it is.
FOOD MATCH
Perfect with succulent meats and stinky cheeses, paired with figs
ABV: 7%
RRP: $21 per 4-pack (330ml)
(2) Hoppapotamus
Hoppapotamus is an American styled IPA, unique in a few ways. It uses all Australian hops. It has a complex malt bill to carry the big bitterness enforced by the heavy use of Topaz hops, copious amounts of Galaxy late in kettle and for dry hopping. The bitterness runs at around 80 IBUs, the heavy hoping regime imparts both fruity and floral characteristics.
FOOD MATCH
Rich pork dishes and Indian curries
ABV:  7%
RRP: $100 per carton (12 x 650mL)
(3) Vale IPA
This is Vale's interpretation of the American style IPA. This beer is brewed with a balance of Australian Pale, Crystal and Wheat Malt and hops from three countries; Citra from America, Galaxy from Australia and Nelson Sauvin from New Zealand. A firm bitterness with lasting passionfruit, citrus and piney characters derived from the generous dry hopping. A great balanced IPA that should be shared with friends.
FOOD MATCH
Sticky BBQ chicken wings or blue cheese drizzled with honey
ABV: 5.5%
RRP: $4.95 per 330ml
(4) Little Bling
Little Bling is a mid-strength IPA that has followed in the footsteps of Bridge Road's original IPA, Bling and its bigger brother the Imperial IPA, Bling Bling. This beer offers craft beer lovers a mid-strength alternative that doesn't compromise on flavour. This beer is about balance between hop and malt flavour.
FOOD MATCH
Mexican
ABV: 3.4%
RRP: $18 per 6-pack (330ml)
(5) Cthulhu Black IPA
A gold medal winner at the inaugural Australian Craft Beer Awards, this black IPA delivers beauty from every angle. A malt bill rich in specialty malts delivers beautiful malty, chocolatey, roasty complexity that is perfectly met by a gorgeous herbaceous hop profile. The palate is full and incredibly satisfying, with flavour intensity and bitterness balanced on a knife's edge.
FOOD MATCH
A dry-aged, semi-hard cheese such as Reypenaer Gouda or Cheddar or just go all out with a poutine
ABV: 6.5%
RRP: $12 per 500ml  
(6) Hawthorn Australian IPA
Hawthorn Brewing Co.'s local take on this celebrated international style. Made from five locally grown malts and four Tasmanian hops, this beer is all Aussie! Crystal and Munich malts give the IPA its deep golden colour and a copious amount of late kettle hops guarantees plenty of bitterness, with passionfruit, melon and stone fruit characters on the palate. All four hops are also dry hopped in the fermenter to produce a similarly striking aroma. Hawthorn IPA is unfiltered and unpasteurised.
FOOD MATCH
Strong dishes like curry
ABV:  5.8%
RRP: $16.99 per 4-pack (330ml)
(7) Robohop Golden IPA
The lightest beer from the hop-masters at KAIJU! Exploding with citrus, passionfruit and grassy notes, a proportion of wheat malt gives a crisp impression on the palate, while still allowing the flavour to linger.
FOOD MATCH
Fish and chips
ABV: 5.7%
RRP: $10 per 500ml
(8) Former Tenant Red IPA
Awarded Champion Australian Craft Beer in 2014, this ruby red IPA sitting at 7.8% ABV is bursting with aromas of passionfruit and mango due to a heavy hand on the Mosaic and Galaxy dry hops, a savoury caramel malt flavour followed by a slightly sweet finish. It also comes with a colourful story. The former tenants of Modus were also quite the crafters, growing something organic and green, which they shouldn't have been. Here's to the Former Tenant!
FOOD MATCH
BBQ meats, spicy food, beef burgers, blue cheese and creme brûlée
ABV: 7.8%
RRP: $20 per CANimal (946mL)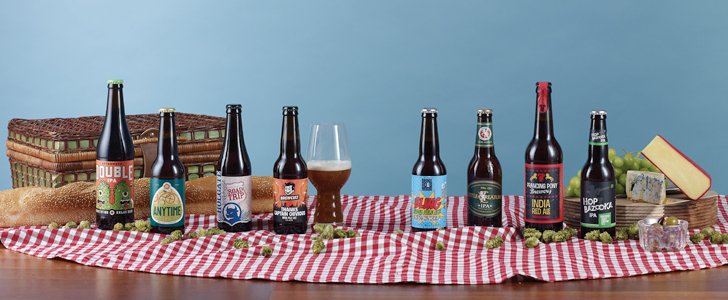 (9) Aftermath Double IPA
Brewer Nat Reeves started brewing this style at home to satisfy hop-cravings for the better West Coast American IPAs. Aftermath is one of the biggest hop explosions you'll find. Ludicrous amounts of dank, piney, caramelised orange and bright citrus aromas lead to a palate that is almost impossibly well-balanced given the huge bitterness. The sheer weight of hops and malt on the palate extends the bitterness fully from the front to the back of the palate, finishing hugely long and satisfying.
FOOD MATCH
Dry aged rump steak, pan-fried medium rare
ABV: 9.1%
RRP: $16 per 500ml
(10) Temple Anytime IPA
Anytime is a smooth, clean pale ale that delivers the big hoppy aroma and flavour you'd expect from an India pale ale, but is low enough in alcohol that it's drinkable anytime. Brewed using the best local and American hops, this sessionable ale is reminiscent of big, fresh, classic pale ales, but is unlike anything you've ever tasted.
FOOD MATCH
Savoury: Beef – burgers, grilled and raw. Roast lamb, pork and most spicy foods
Sweet: Tarte Tartin and desserts that feature caramel or toffee flavours
ABV: 4.7%
RRP: $19.99-$23.99 per 6-pack (330ml)
(11) Holgate Road Trip American IPA
The perfect Holgate family holiday? A US Pacific Northwest beer tour of course. Result? The family's 2009 odyssey to hop heaven lives on in this tribute to the spiritual home of craft beer. A super-charged but dangerously sessionable all-American hop-bomb, this golden hued IPA is loaded up with multiple additions of Chinook, Centennial and Citra hops from the Pacific Northwest of the USA, resulting in an explosion of piney, citrus and grapefruit flavour and aroma.
FOOD MATCH
Spicy food as the hop flavour and aroma melds well with tamarind, coriander and cardamom
ABV: 5.8%
RRP: $20 per 4-pack (330ml)
(12) Thanks Captain Obvious IPA
Drink all the hops! In the modern world where IPA has completely dominated the craft beer scene, one beer comes to the rescue. With three superpower hops: Simcoe, Citra and Centennial, Thanks Captain Obvious is a classic American IPA without the twist. This hoppy, sessionable beer from the team at BrewCult has been  brewed to a strong American pale ale style and picked up a silver medal at the 2015 Australian International Beer Awards.
FOOD MATCH
Thai, Indian or any other spicy food
ABV: 5.8%
RRP: $18-$20 per 4-pack (330ml)
(13) Bling IPA
Bridge Road Brewers has gone all out to make an IPA that screams hops and malt but keeps balance in mind. Bling IPA is a big bold beer with plenty of hop character and bitterness.
FOOD MATCH
Southern US BBQ
ABV: 5.8%
RRP: $21.50 per 4-pack (330ml)
(14) Little Creatures IPA
Little Creatures IPA will deliver big, rugged hop flavours. You can expect an aroma of passionfruit, grapefruit and a touch of aniseed spice. A smooth round palate, which is soft in the middle, delivers a long bitter finish that leaves you wanting a little more.
FOOD MATCH
Spicy tom yum soup
ABV: 6.4%
RRP: $18 per 4-pack (330ml)
(15) Prancing Pony India Red Ale
This big and bold India Red Ale is part of Prancing Pony's exclusive Thoroughbred range, preserved for its purest and most passionate beer creations. Generous caramel malt characters, intense yet balanced hop bitterness with a big hop aroma. Packed with citrus, passionfruit and tropical fruit characters, the India Red Ale is a strong, full bodied and balanced ale that hits you with flavour.
FOOD MATCH
Fabulous with Asian flavours, curries and spicy Spanish paella
ABV 7.9%
RRP: $12 per 500ml
(16) Southern Bay Hop Bazooka IPA 
The Hop Bazooka was initially conceived as a CO2 powered cannon, which would be used to launch dry hops into storage vessels. Eventually calmer heads prevailed and dry hopping continues using more traditional methods. The beer that was born out of that process is an exuberant blend of Citra, Galaxy and Ella hops marching superbly alongside Victorian barley malted locally in Geelong. Not for the faint-hearted this is a big but balanced beer with an amazing resinous mouthfeel and a solid malt structure to hold it all together.
FOOD MATCH
Strong tasting game meats
ABV:  5.6%
RRP: $22.95 for a 6-pack (330ml)
For more information on porters and stouts, check out the Spring Issue of Beer & Brewer.
Have we missed your favourite porter or stout? Tell us your pick here.