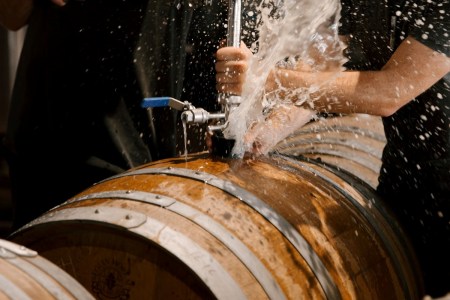 In the fast-paced, quickly evolving world of craft it can sometimes feel like a race to get that next newest beer out or to chase that latest trend. But just like we've seen more and more Australian breweries dedicate tank space and time to properly honouring different styles of lagers, that financial commitment and patient dedication has also been mirrored by the amount of brewers now taking things even slower with the ancient art of barrel ageing and fermenting beer.
And now, after "quite the patient two year journey", and since opening a venue that champions the category, Brisbane's Felons Brewing have the first four packaged releases from their barrel program to share with the world – a saison, a sour red, a sour golden ale with cherries and an imperial stout (see below for more details on each).
In actual fact, it's been an almost three year journey to get to this point for the team that calls the shadow of the famous Storey Bridge home because the overall concept was conceived during those peculiar days when Covid-19 first became part of our collective dialects. They had just gotten their hands on Howard's Hall – a large events and hospitality space – a stone's throw from their brewery venue and, in brand director Dean Romeo's words, "chose to not just make Felons bigger but instead unearth a new side to the brewery and have a crack at something a bit more creative and experimental".
That evolution of Felons' identity has since seen them pour a six week barrel aged version of their core range Crisp Lager ever since opening the Barrel Hall – a sizable venue where the classic German bierpalast theme meets a modern Australian brewery with cuisine and live entertainment to match – back in October 2020.
But whilst the lager was their way to bring new people into the category "and not scare them away", their two year waiting game has been geared towards these first "more nuanced, patiently crafted" releases.
Dean (pictured below on the right with brewery director Tom Champion) said that whilst they might be more refined they still see them as being similarly approachable and equally capable of piquing the interest of those at the fledging end of their craft explorations alongside the advanced cognoscenti as the lager has proven.
"We do feel we've got a responsibility on our hands to talk to a wide audience (with these beers). Out of the thousands of people who stream through the brewery and the Barrel Hall each week, some are really early on in their beer journeys. So we are constantly challenging ourselves on how we soften that experience and how we welcome people with open arms in to the world of beer.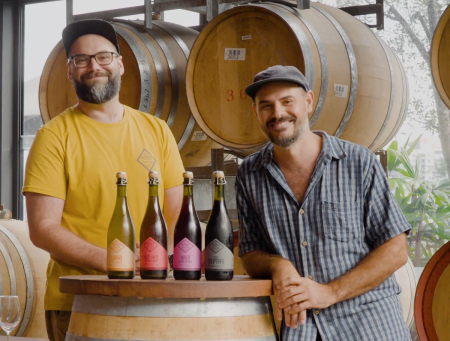 "Our goal is create barrel aged beers that are balanced and have that lovely drawn out acidity. So we've honed in a bit more on red and white wine barrels as they would push these beers in that particular direction. And no I'm not forgetting that there's a big imperial stout that's been in whiskey barrel amongst these first releases, but even that is really luxurious and decadent and smooth."
Each of the four releases are limited to 300 750ml bottles each while Felons are loosely looking at another drop of beers come September/October to satisfy a planned bi-annual release program.
To celebrate the launch of the releases Felons are also hosting a paired multi-course dinner at Fortitude Valley restaurant Essa this Thursday (March 16) ahead of bringing the party home on Sunday (March 19) for a bash at the Barrel Hall.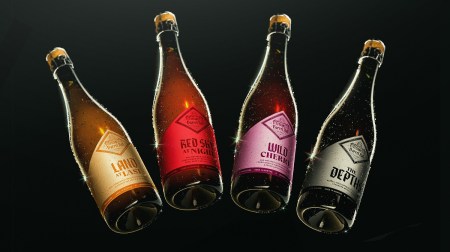 Brewer's notes
Land at Last (8.0%) Oak-fermented French saison, conditioned in French oak white wine barrels
Fermented and conditioned in French oak white wine barrels for a period of 18 months. Enjoy delicate stone fruit character with a subtle smooth and spicy finish.
Red Sky at Night (8.0%) Oak-matured sour red ale, conditioned in fresh chardonnay, pinot noir and whiskey barrels
Patiently matured in a blend of ex-chardonnay, pinot noir and whiskey barrels for 20 months before being blended and bottled for a bright, crunchy, and deliciously dry finish.
Wild Cherry (6.6%) Oak-matured sour golden ale, conditioned in chardonnay barrels and fresh lapin cherries
Aged in American oak chardonnay barrels for a period of 14 months before spending a further two months in tank with a fresh harvest of whole lapin cherries. Savour a tart, juicy and deep cherry flavour with a vivacious textural finish.
The Depths (10.8%) Barrel aged imperial stout aged in Starward Whisky barrels
Spent four months in fresh Starward Whisky barrels before a further 15 months conditioning in stainless steel. Enjoy a brooding ale with complex aromas of dried dark fruit and a bitter caramel finish.
You can even check out a Spotify playlist curated for each of the new beer releases here.