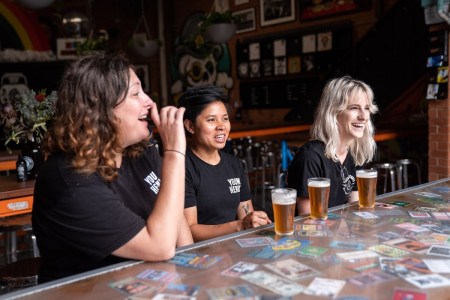 Registrations for the Young Henrys Brewing Scholarship are now open as the Newtown brewers continue to champion female-identifying and non-binary individuals in the beer industry.
After launching last year, Young Henrys will again fund one woman's entire tuition to the Certificate III Food Processing (Micro Brewing) in partnership with TAFE NSW, alongside quarterly mentorship from the likes of their head distiller Carla Daunton, brew team member Mariel Santiago and Zoe Catterall from the Young Henrys Lab (pictured in that order above). The scholarship recipient will also receive Young Henrys clothing and Blundstone boots in an overall package worth in excess of $10,000.
The inaugural scholarship winner Laura Nosworthy said: "As a community we can continue to break the stigma by having more engagement with the female/non binary community through events, artist sponsorship, social media exposure and always ensuring that there are equal opportunities for all genders. If other's continue to see and feel the inclusivity, I think we will continue to see more people willing to give it a crack".
Carla added: "Laura was a pleasure to have as the first recipient of our brewing scholarship this past year. Her enthusiasm to take full advantage of the opportunity was wonderful as she engaged with us and actively sought out learning opportunities here. I am looking forward to meeting this year's recipient and to witness the continued growth of the careers of these high calibre brewers. I'm really excited to see the impact this opportunity will have not only on the brewer each year but also the industry as a whole by showing genuine and practical support for women in brewing".
Registrations are open until March 31. Apply here.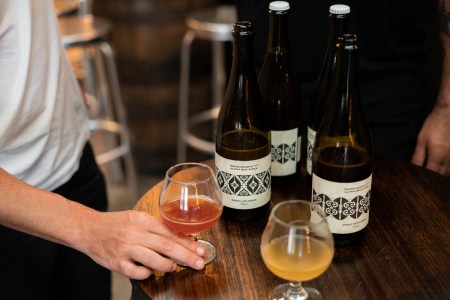 Meanwhile, Young Henrys have released another run of limited-edition sours in collaboration with Adelaide-based winemakers Alpha Box & Dice, this time arriving as a duo with a Semillon Sour and Pinot Noir Sour. The two releases are available in 750ml bottles for a limited time at select bottle shops and their Tasting Bar in Newtown.
The semillon has been infused with the brewery's own Where Would You Guava Be Brewers B-Sides limited run sour aged in wine barrels and seasoned with Alpha's Lazarus Bianco.
The Brett-funked Pinot sour merges its namesake wine with Young Henrys' Newtowner pale ale and sour cherries and raspberries.