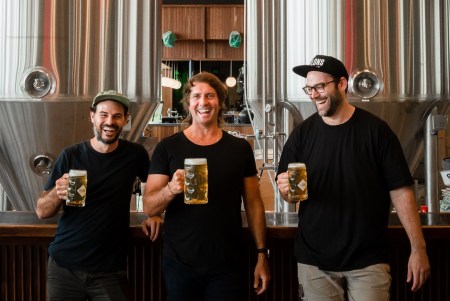 Felons Brewing Co have taken over the Brisbane River-front entertainment venue Howard's Hall where they will combine aged beers, food and live performances to deliver a modern Australian take on a traditional German beer hall.
Under the famous Story Bridge, and in a completely new direction from their nearby brewery, the Felons Barrel Hall will be where their brewers explore barrel ageing in hand-selected French and American oak ex-wine barrels alongside the new and unique brewpub experience.
"We invite the Brisbane community to come with us on this journey of discovery at Felons Barrel Hall as we unearth the magic of barrel conditioning and blending beer," Felons' head brewer Tom Champion said (pictured above on the right).
"We're excited about sharing these beers later in 2021, which will display patient craftsmanship and evoke delicate and undiscovered flavours – we can't wait for everyone to try them."
Until the barrel-aged beers are ready, a core range of Felons beer will be on offer in half and one litre steins plus selected limited and seasonal releases.
The seafood-laden menu utilises ethically farmed and fished Australian ingredients while the wine list showcases local producers as well. The range of entertainment on offer will span everything from live music and performances to art-house films and the space also features a kids' play area.
"We're excited to unearth a new side of Felons which has not yet been revealed. After two years of brewing at our home on the Brisbane River, we've decided now is the perfect time to take the next step in our journey with Felons Barrel Hall," said marketing manager Dean Romeo (pictured above on the left).
Felons Barrel Hall will be open from 11am until late Thursday to Sunday.