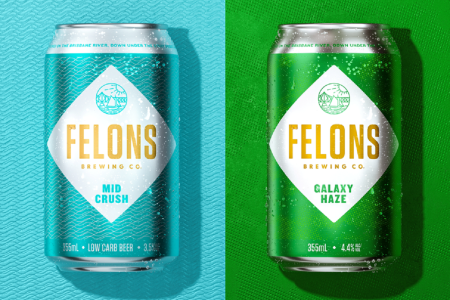 Brisbane's Felons Brewing have added the Mid Crush and the Galaxy® Haze to their core line-up with the latter being in collaboration with Hop Products Australia (HPA).
The Mid Crush is a 3.5% ABV low carb pale ale that harnesses US Cascade Cryo hops, pilsner and wheat malt and is 99.9% sugar free. The 4.4% hazy pale Galaxy® Haze has HPA's hero hop as its main calling card while the grower's latest proprietary variety Eclipse is also used.
Felons brewery director Tom Champion said: "We're elated to be representing the Galaxy® name, trademarked by HPA, with a beer that's bound to leave its mark on the Australian good beer landscape as a strong contender for most refreshing hazy".
Brand director Dean Romeo added: "We were fortunate enough to walk the hop farm with Allan Monshin, who has worked the farm for 50 years. Galaxy® hops have truly revolutionised the good beer industry in Australia and world-wide. Thanks to the hops, Galaxy Haze delivers a distinctive tropical aroma, flavour, and crisp refreshment – a beer that perfectly complements the warmer climate of south east Queensland and one we're sure will be embraced as a household staple here".
The two beers were released May 24. Head to Felons' beer finder here.