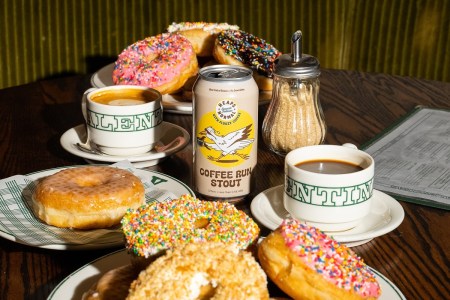 Australian non-alcoholic craft brewers Heaps Normal have teamed up with Newcastle coffee roasters Floozy on the limited release Coffee Run Stout.
It's the brand's first dark beer following the release of their core range Quiet XPA, Another Lager and Half Day Hazy and just their second limited after they released the Isol-Aid Haze in 2021 in partnership with Isol-Aid Festival.
"We're stoked to launch this delicious new beer, infused with coffee roasted in Newy," Heaps Normal co-founder and CEO Andy Miller said. "The Coffee Run Stout is a light-hearted play on combining two of our favourite drinking occasions – late night beers and early morning coffees. Let's face it, sometimes these moments can bleed into one another. So we put them in a can."
The launch of the Coffee Run Stout is accompanied by a series of interviews with creatives from around Australia including Floozy's Kirsty Mujana, Dash Rumble from Canberra's Such and Such, the female-led team behind Footscray's Migrant Coffee and Heaps Normal's production manager Charlotte Richards.