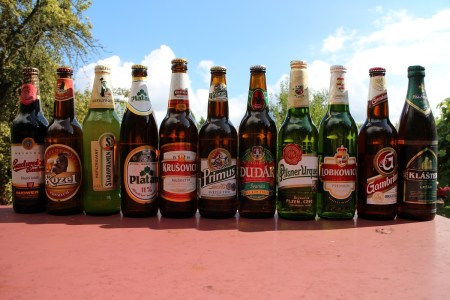 A Bond University law professor has warned the day may soon come when Australian brewers can no longer refer to their products with descriptors like Czech pilsner, or even Czech-style pilsner, as an aspect of negotiations between Australia and the European Union over a free trade deal threatens to send certain beer names the same way as Champagne.
Speaking with Beer & Brewer about a book he's co-writing on beer law (details below), Professor Dan Svantesson said in the long-running free trade agreement (FTA) talks with the Australian government the European Union (EU) had stipulated a long list of Geographical Indications (GI) they want protected against commercial use Down Under. Alongside foodstuffs like Roquefort and Parmigiano Reggiano in the list are six beer varieties the EU would want protected in Australia – Münchener Bier and Bayerisches Bier from Germany and the Czech Republic's Budějovické pivo, Budějovický měšťanský var, České pivo and Českobudějovické pivo.
Whilst those beer styles aren't as prevalently made in Australia as say the Munich-style Helles, Dan said he feared "how far this could go".
"GI protection extends to translations and to 'any misuse, imitation or evocation, even if the true origin of the product is indicated or if the protected name is translated, transcribed, transliterated or accompanied by an expression such as style, type, method… including when those products are used as an ingredient'. As a result, an Australian brewer would not be able to sell a beer such as a Czech-style pilsner.
"Instead (it will) have to be described by its production method and ingredients, such as a clean, rich, bitter pale lager using a decoction mashing process brewed predominantly with pilsner malt, soft water, and Saaz hops."
Precedence has already been set by Europe-based producers in matters such as this, with Champagne the one people are most familiar with whereby you're not allowed to call something Champagne unless it is made in the Champagne region of France via traditional methods.
But with so much about the identity of beer tied up in style and country of origin, including how it is judged, Dan said the EU's request would have a broad impact here if agreed to by the Australian government.
"When a brewery says something is a Czech pilsner, you know what to expect. I think that is very valuable to the consumer and to the producer. If I buy a Czech pilsner, I want it to be a true Czech pilsner brewed in the Czech Republic. I think transparency for the consumer is key.
"But the problem I have is if you're not allowed to say even Czech-style pilsner that has been brewed by an Australian brewery, then both the consumer and the producer is going to suffer.
"I mean, if we can't call something a Munich-style Helles it's going to be hard to describe what it is to the consumer.
"As part of a very big trade deal, this aspect may seem very insignificant to the people doing the negotiating. But for craft brewers, who are trying to market their products, I imagine it will be very important."
Since the Albanese government came to power the protracted FTA talks with the EU have gathered pace as Australia's stance on environmental policy changes and relations improve with France after former Prime Minister Scott Morrison's handling of the French-made submarine deal.
Whilst there are no guarantees when, or even if, the FTA will go ahead, Dan said if it did, and the GI stipulations were included in the deal, EU members had shown in the past they could be "aggressive" in pursuing legal proceedings against those who fall foul of the law.
"There are different structures around who would enforce the GIs. But Europe, in some fields, have been quite aggressive in trying to protect them where they see them as being valuable.
"And, yes, I do believe that there is a risk this is being overlooked by the (Australian) government. It's been such a long process, where negotiations have been going for years. When you combine that with this being a perceivably small aspect of much larger negotiations, that creates a risk that one day we will realise that we're in this position. And we shouldn't be."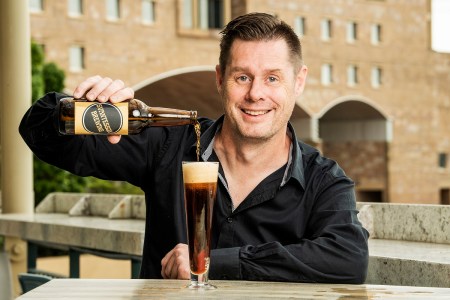 We first introduced you to Professor Dan (pictured) late last year after his Czech (style!) pilsner won gold, and his Baltic (style!!!) porter a silver, at the Queensland Amateur Brewing Championships.
The keen home brewer, who migrated here from Sweden around the turn of the century, has since gone even better at that same competition where recently his chocolate Baltic-style porter was judged best in show, scoring 48 out of 50 points and beating 580 competing beers in the process.
With an obvious love of beer and the law, Dan and colleagues from Bond University as well as professors from brewing powerhouses Germany, the Czech Republic and Belgium, are combining the two in a first-of-its-kind book they hope to release by the end of next year. Their book about beer law will include a general overview of the laws around how beer is brewed and the ingredients used and feature themes like brewing regulations, health and safety around consumption, intellectual property, consumer protection, competition law, tax and more.
Dan said he hoped it would be equally as applicable to the general reader as it would a brewer, brewery owner or member of the legal fraternity. He said it will be written mainly from a European perspective but include examples of beer culture and law from countries around the world, including Australia.
"It's an idea a colleague of mine and I have been talking about for a few years now because there is a clear relationship between the law and beer. Law clearly effects beer in so many ways – from the different tax categories that may drive the market in certain directions, the intellectual property angle, how it is regulated in terms of alcohol and how it has been regulated for hundreds of years in regards to how something can be called 'beer'.
"We started looking at it and there are quite a few books on wine law but we couldn't find a single book on beer law. We thought there was a bit of a gap."
Not wanting to tie the book down in legal jargon, even though it will detail the finer aspects of how beer is affected by law, Dan said they would look to "bring it to life" with case studies and real beer world examples.
"One thing I (recently wrote for it) was a piece on collaboration agreements (where two breweries work together on a beer release). It details what the separate parties should consider in such an agreement. That is obviously very applicable to the craft beer industry."