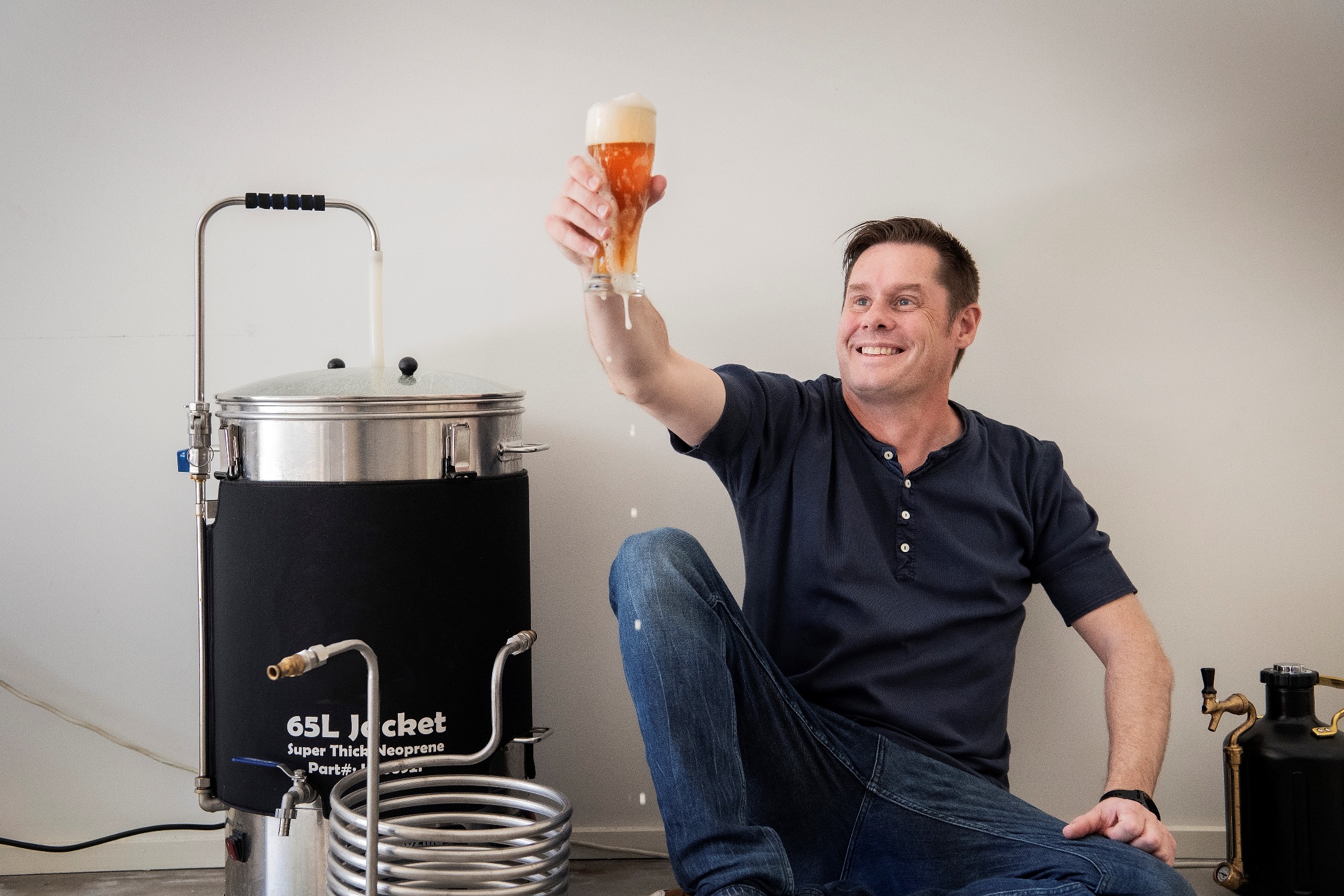 He's already Australia's leading technology law academic, and now Professor Dan Svantesson has mastered the laws of good beer, taking home a gold and a silver medal at the Queensland Amateur Brewing Championships.
Prof Svantesson (pictured), from Bond University on the Gold Coast, has for the past three years been named as the Field Leader in Technology Law in The Australian's Research magazine, published in partnership with research analytics firm League of Scholars.
But his most recent success has come in a very different field with his Czech pale lager – the Mudgeeraba Pilsner – winning a gold medal, and his Trans-Porter Baltic porter a silver, at the Championships earlier this month. He finished equal-third in the state, earning entry to the Australian Amateur Brewing Championships in Tasmania at the end of October. The competition's champion beer award went to Central Queensland Craft Brewers' Cam McMillan's Pils Munich Helles. In the champion brewer stakes, Tuns of Anarchy's Jeremy McGregor came out on top with two firsts (Amalgamate Brett Beer and Hoppy Days Hef Weissbier) and a second (A Cure For Chungus Belgian Golden Strong Ale). From 13 participating organisations, Brisbane Amateur Beer Brewers were crowned the champion club.
Dan said he was thrilled with his success, which came just three years after he started brewing with a basic kit at his Mudgeeraba home. He said the worlds of technology law and brewing were more similar than might be expected.
"I think there's a lot of comparisons between the two – creativity, attention to details and of course research is key for both. If you have an interest in brewing you end up being a researcher one way or another. You want to learn more about how things have been done, and why you end up with a certain result," he said.
"With brewing, I think the one thing I enjoy more than anything else is trying to allow some creativity, sticking within the framework of how things are done, but then tweaking it to come up with the taste you are after – it's fascinating. And the same creativity is needed to tackle technology law issues."
While Dan brews to suit his own tastes, he also enjoys branching out into new styles such as stouts and porters, which he did not drink before becoming a brewer.
"I love Czech-style pilsners and they are one of the more complex styles to brew too because the mashing process is different for those. I also brew a lot of pale ales, and a British golden ale, which is quite close to a pale ale in many ways."
Any good scholar does his research, and Dan was pleased to uncover an unlikely link between his day job and his brewing.
"There is a technical legal aspect to it, there's something called the German Purity Law from the 1500s, which is very specific about what is allowed to be in a beer, under that law they only allow water, barley malt, and hops. This overlaps with my interest in internet law, because according to legend, the first German law ever published on the internet was the German Purity Law from 1516."
It's a German beer that's next on Dan's brew list too, with a Kolsch in the pipeline. He's also beginning to turn his attention to Belgian beer styles, and hopes to keep an important personal record intact.
"So far I have not brewed anything that's undrinkable, and I'm very pleased to keep that as my standard, despite some interesting experiments."