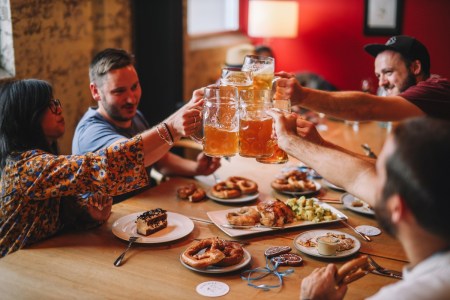 Frenchies are reviving their Oktoberfeast celebrations at their Sydney brewery on October 22 where traditional German beer, food and festivities will be given a certain je ne sais quoi.
Co-Founder and master brewer Vincent de Soyres, who is of part German heritage, said they couldn't go past hosting an Oktoberfest event again this year after not being able to during Covid times.
"What better way to celebrate the renowned German beer event right here in Sydney than in a unique brewery setting, accompanied by independent beers, games and beer prizes for a little extra fun," he said.
Event-goers can sample Frenchies' selection of beers, including a German lager brewed especially for the day as well as new releases, award-winners and core range stalwarts. Ticket holders will also receive a stein glass on arrival which they can drink from on the day and then take home with them once the festivities are over.
On the food front, the team have curated a themed menu which features German classics including pretzels with housemade butter, weisswurst, bratwurst and currywurst accompanied by the all important sauerkraut, crispy skin pork knuckle with beer gravy and kartoffel salad.
Those seeking something sweet can also dine on a fluffy German pancake known as Kaiserchmarrn, which will be paired with apple sauce, Apfelstrudel with ice cream and gingerbread Oktoberfest hearts.
There will also be games like tug of war, nail hammering and a folk dancing competition with beer-related prizes to be won. Frenchies are encouraging guests to bring their favourite Oktoberfest wares too for the chance to take home the title of Best Oktoberfest Outfit for 2022.
Tickets to Frenchies Oktoberfeast celebration are available for purchase for $25 per person here, as well as at the door on the day.