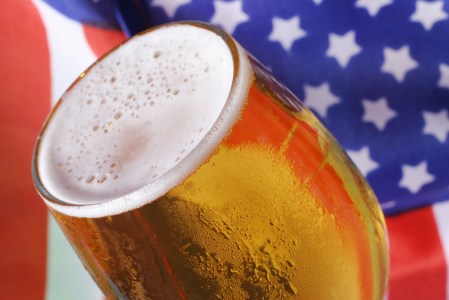 America's Brewers Association – the not-for-profit trade association dedicated to small and independent brewers – has released its annual list of the top 50 producing craft brewing companies and overall brewing companies in the US based on beer sales volume in 2020. Of the top 50 overall brewing companies, 40 were small and independent craft brewing companies*.
The top five overall companies remain unchanged from previous years, with Anheuser-Busch (Bud Light, Budweiser etc), MolsonCoors (Blue Moon, Coors etc), Constellation (Four Corners, Corona etc) Heineken, and Pabst rounding out the top spots with fellow non-independents Diageo (Guinness) and FIFCO USA (Dundee, Genesee etc) placing sixth and eighth respectively.
The top small and independent craft brewer overall was D. G. Yuengling and Son Inc, the oldest operating brewing company in America that was established in 1829, placing seventh. The Boston Beer Co was ninth while Sierra Nevada Brewing Co rounded out the top 10.
For the first time two of the country's craft beer pioneers – New Belgium Brewing Company and Dogfish Head – were absent from the small and independent list. New Belgium was purchased by the Kirin-owned Lion Little World Beverages in 2019 (Kirin placed eleventh on the overall list) while Dogfish Head merged with the Boston Beer Company in 2019.
"The COVID-19 pandemic drastically changed where Americans purchased alcohol in 2020," the Brewers Association's chief economist Bart Wilson said. "Breweries who had established packaging and distribution capacity were best positioned to take advantage of the boom in off-premise sales and weather market uncertainty.
"These businesses also saw variation in performance based on geography and business model, with different parts of the country seeing very different beer trends, and draught-heavy breweries suffering."
View the full lists of top breweries here.
Top 10 Craft Brewing Companies
1 D. G. Yuengling and Son Inc
2 Boston Beer Co Boston
3 Sierra Nevada Brewing Co
4 Duvel Moortgat
5 Gambrinus
6 CANarchy
7 Bell's Brewery
8 Artisanal Brewing Ventures
9 Stone Brewing
10 Deschutes Brewery
Top 10 Overall Brewing Companies
1 Anheuser-Busch Inc
2 MolsonCoors
3 Constellation
4 Heineken USA
5 Pabst Brewing Co
6 Diageo
7 D. G. Yuengling and Son
8 FIFCO USA
9 Boston Beer Co
10 Sierra Nevada Brewing Co
*Figure based on companies that met the craft brewer definition for all or part of 2020. An American craft brewer is a small and independent brewer. Small: annual production of 6 million barrels of beer or less (approximately 3 percent of U.S. annual sales). Beer production is attributed to the rules of alternating proprietorships. Independent: less than 25 percent of the craft brewery is owned or controlled (or equivalent economic interest) by an alcoholic beverage industry member that is not itself a craft brewer. Brewer: has a TTB brewer's notice and makes beer.