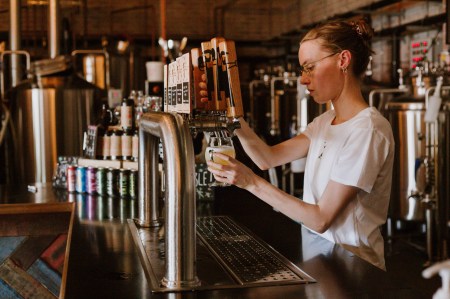 Sydney's Batch Brewing Co. have almost reached their $1.5 million target just days after their equity crowd funding campaign launched. On current rates of investment the figure could be reached as soon as the end of today.
Approximately 2,000 would-be investors had pre-registered their interest in the lead up to the offer opening up. After the raise went live on investment platform Equitise at midday on Monday it had received over $1.3 million in funds, from an estimated 400 individual investors, at the time of this article being published. At this stage the average investment has been about $3,500 which is a significant increase on the $1,300 average that other brewery crowd funds have generated on the platform. The minimum investment in Batch's crowd fund is $250 with individual shares valued at $1.
Batch was launched in 2013 by co-founders Andrew Fineran and Chris Sidwa, becoming a pioneer of the now brewery-laden area of Sydney's inner west. In 2019 they opened a second brewery and taproom – Small Batch – nearby in Petersham while they also have an offsite cold storage where they operate their wholesale business from and an e-commerce store. Their offer page on Equitise values the company at a little over $13 million while they generated $3.3 million in revenue in the 2020 financial year, selling 345,000 litres of beer. This represented growth over FY19 of five per cent and seven per cent respectively.
Batch said the funds would initially be used to develop their existing wholesale channels by making several key staff additions and, with brewing at capacity at both of their breweries, would solidify their current contract brewing relationships to service demand. Concurrent to that they will scout as many as three new locations for Batch taprooms in NSW.
If these plans fall in place they said they would look to do a "phase two" of public investment to fund the building of new production facilities in regional NSW and interstate – each of which would service their own network of retail taprooms as they "look to become Australia's community brewery".
"We have big plans to grow the Batch movement. Investment in the business will (see Batch) expand into new venues, create new taprooms, grow our wholesale distribution and online network and truly become Australia's community brewery," Andrew said. "By getting this funding done so quickly means we can get straight into making our plans a reality."
Andrew said he put some of the success of the crowd funding down to the level of community engagement Batch had built up over the last eight years. But early analysis of the investment data shows interest was much wider than their inner west base.
The founders told Beer & Brewer the plan to fund an expansion started about six to nine months ago while doing so via crowd funding means was only made in January.
"It was like, we're not going anywhere unless we do something," Chris said. "Our breweries are full and unless we start doing something differently we're just going to go sideways forever. Which is fine but it's not what our ambitions were."
Asked whether these expansion plans would ultimately lead to Batch selling the business, Andrew said: "If we do get to phase two and beyond and there is a strategic buyer – someone who can take us to the levels that we don't think we can go on our own – then we have to consider that. We want this brand to live on beyond us. I don't want this to die when one of us gets too tired to go on. We want to have a legacy and at some point someone might be looking at how to partner best with us. We don't know who that is. Some people would assume that would be a big multi-national but there are a lot of players in the market."
Chris added: "I don't think people have anything to worry about. We are protective of this industry and protective of our brand but we're also very level headed, that if the right partner came along, that could do better than we have so far, then we'll look at that too."
Andrew said Equitise was also working on developing a secondary market platform where people who had bought into the the likes of a brewery via crowd funding means had the option to sell their shares.
Outside of equity in the company, Batch are offering a range of investor rewards that are commensurate to the level of investment.
For example, at the lowest end of the scale, The American Pale Ale Alliance category sees investments up to $999 receive a five per cent discount for life in-store and online, early access to events/products and a unique investor keyring. Or the highest, The Chapeau! Collective for investments over $50,000, there's a 15 per cent discount for life in-store and online, early access to events/products, a unique investor keyring, free brewery tours for them and three friends (unlimited), a custom Batch jacket and a 'We Brew with You' experience where they'll learn all about the process of creating a beer from start to finish.