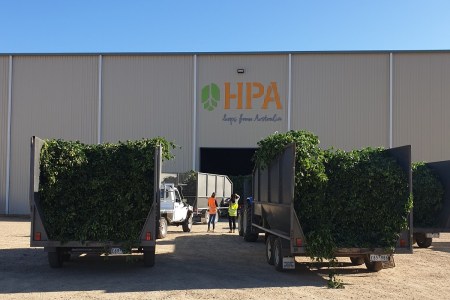 Australia's largest hop grower Hop Products Australia (HPA) has reported a 37 hectare (4.5%) net increase and a 164 tonne (9.9%) net increase year-on-year in its 2023 crop report across its six proprietary varieties – Eclipse, Ella, Enigma, Galaxy, Topaz and Vic Secret – as well as Cascade.
HPA picked 847 hectares across its Victoria and Tasmania farms, which resulted in 1,821 tonnes of hops while oil content came in equal or above the five-year average for all of their proprietary hops.
The hop to make the biggest strides for HPA was their latest proprietary variety Eclipse. Released commercially in late 2020 after 16 years in their breeding program, the mandarin-citrus forward hop is now their third top hop in terms of volume having experienced a 70% increase on last year's harvest to deliver 161 metric tonnes.
HPA's head of sales and marketing Owen Johnston told Beer & Brewer Eclipse was on track to deliver 180 tonnes-plus next year.
"This is as strong a commitment for growth that we had even for Galaxy when it was released in 2009. This is a sign of how much we believe in this hop."
Galaxy remains at the top of HPA's production volume list, with 1,096 tonnes picked this year which represents 8.8% growth on last year. Vic Secret experienced a 10.3% jump on 2022 to reap 320 tonnes while Eclipse leapfrogged Ella which dipped 10.1% on the previous harvest to deliver 87 tonnes.
HPA said the increases in Eclipse, Galaxy and Vic Secret are the result of their 300 hectare Buffalo River Valley expansion in Victoria as second and third year plants reached commercial maturity.
"These increases were somewhat lowered (however) on account of (a third consecutive La Niña weather pattern) that also significantly impacted Ella, Enigma (-9.6%) and Cascade (-29.7%)."
HPA added that the 9.2% increase in the Topaz crop is due to the amount lost to hail damage in 2022.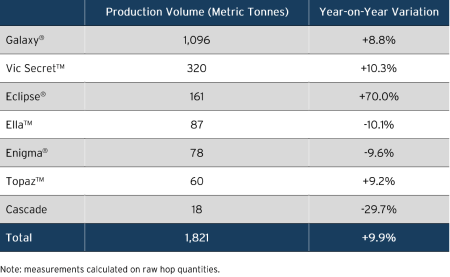 HPA said a portion of this year's crop will be reserved for commissioning their new production facility in Victoria in time for the 2024 harvest. The pellet plant and form, fill and seal packaging line will produce in excess of 50 tonnes of pellets per day and will be the central hub for all HPA hops, no matter where they're grown.
"This will represent a quantum leap forward for us," Owen said. "It allows us to really complete the philosophy of ours of taking a whole crop blending approach and to strive to make pellets of the highest possible quality with the lowest variance in quality.
"Two things will allow us to fulfil that vision. One is consolidation of a variety, regardless of where they were grown, brought into a centralised location. The second is the state of the art equipment. The form, fill and seal machines – they are a step change for us. We're going to punch out world class pellets in world class packaging and this can only be a good thing for brewers to make great beer."