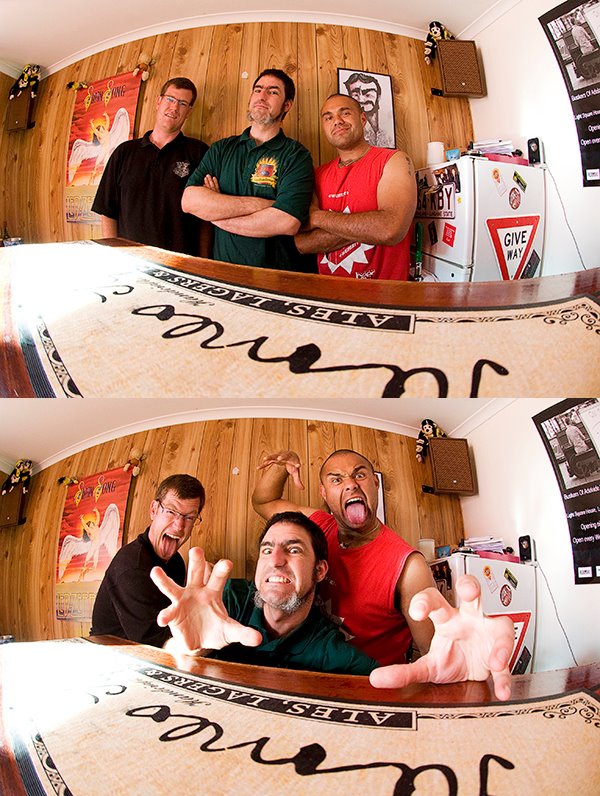 The newest kid – so new the owners are still setting up – on the craft beer scene, Drop Bear Brewery, chatted with us recently about their love of beer and their plans to brew beer while carrying on with their careers and family lives. A grand challenge for passionate beer fan Matt Carty and his fellow company owners to be sure!
What made you guys decide to start a microbrewery?
Damo Thorpe, Andrew 'Bushy' Veimuli and I are long time craft beer lovers and keen home brewers. I have been brewing since I was a teenager and the other guys have been brewing for a while as well. I guess like a lot of beer loving folk we just thought it would be great to turn our passion and hobby into a commercial project with the hope of one day running a brew pub or brewery full time.
Where there any brands that inspired you?
I'm in love with NZ beers and at this very moment just finished packing for my first Beervana! I love the 8 Wired, Yeastie Boys, EPIC, Invercargill and Renaissance beers. Damo and I are hop heads so usually a nice bitter, IRA or IPA appeals to us most. Bushy spent a few years in the UK so he loves the malt driven real ales and belgian beers and really likes cask brews, however Damo and I are slowly turning him to the hoppier side of beer fanaticism. We all agree that it is hard to go past a nice stout. We are a good match up and I think we balance each other out very well with our beer tastes.
What has been the hardest part of getting set up?
Being inspired by the likes of the Yeastie Boys, 8 Wired and Mikkeller we love the idea of brewing under contract. We are all very driven in our own personal careers and family lives and would prefer to keep the brewery a side project for the time being. The hardest part for us is finding a brewery in SA that we can start up a brewing under contract association with. I was very motivated by a tasting seminar the Yeastie Boys held at the Wheatsheaf Hotel back in May and they talked about the freedom that a brewing under contract approach can bring, not only financially but also the freedom to spend your time as a brewer creating new recipes while a qualified master brewer reproduces your product for distribution. We all like the idea of spending our time creating beer recipes in small batches for a local brew pub and then outsourcing the larger scale production of a selection of those recipes rather than slaving away producing the volume required to cover the overheads of a brewery premises.
How has the community reacted to the news of you opening?
There seems to be a lot of excitement about Drop Bear Brewery, it's not every day a brewery project starts up in Adelaide and we have had a considerable amount of interest from the craft beer community, even at this very early stage of forming the business.
What plans do you have for your first brews?
At the moment we are at the very early stages of recipe development and are working on a few different styles of beer. We are tackling some fairly standard styles but trying to add our own unique twist on them rather than going all out crazy straight from the word go. We love trying eccentric beers but the majority of beers that we keep coming back to again and again are very simple yet delicious brews.

Did you have professional advice or was it a 'learn as you go' experience?
We are really just three blokes who thought it would be cool to open a brewery, although we are realistic to the amount of work that is involved in setting up a premises and a brewing business we are still just making our way step by step. We try to be honest and transparent about our journey when we promote ourselves on Facebook and Twitter, the businesses we are most attracted to are down to earth, honest and unafraid to show the world who they are and I guess we try to adopt that approach for our own marketing and promotion. When the time comes for us to dive into the deep end so to speak we will definitely be seeking advice from the established breweries in SA and Australia wide as well as the brewing associations. I was in Brisbane recently for the Queensland Beer Week and learnt a lot from talking to the brewers I met there. I love the craft beer community, everyone is humble and down to earth and willing to help inform and nurture the new guys on the scene, which is really great.