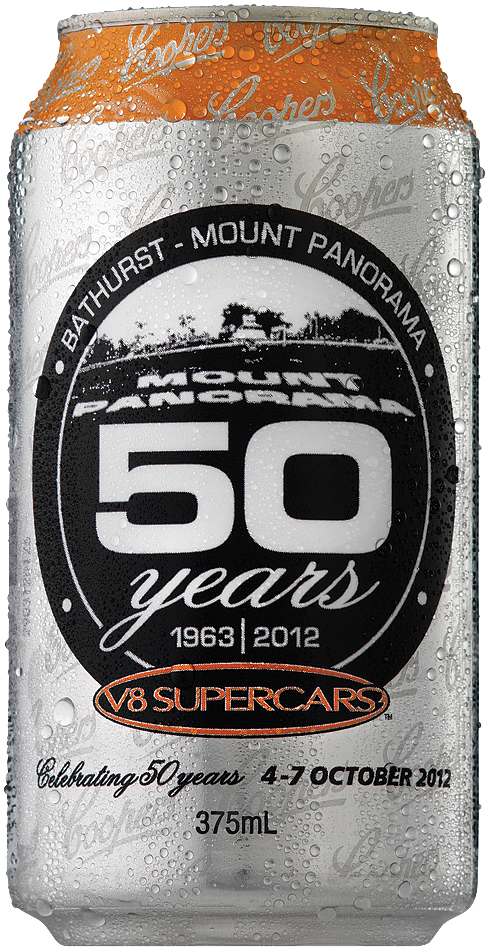 To mark the 50th year of the iconic Australian Supercar race, Coopers Brewery is introducing a special Bathurst pack.
Containing 20 specially labelled cans of Coopers Mild Ale 3.5, the packs will be made available around the country in the lead up to the Supercheap Auto Bathurst 1000, held October 4-7 this year.
Glenn Cooper, Coopers Chairman, believes it is appropriate, as the exclusive beer partner and major sponsor of V8 Supercar racing, that Coopers offer something to celebrate such a huge milestone.
"Coopers is celebrating its 150th anniversary in 2012 as well, so we appreciate the significance of the milestone," he says. "The Coopers Bathurst 20 pack will only be available in the lead-up to and during the Bathurst weekend."
This is the first time that the brewery has produced such a pack and it expects to see them snapped up by beer collectors and motoring fans around the country.
"Given the timing, it is also likely a number of packs will become Fathers' Day gifts as well," says Cooper.
Coopers became the exclusive beer partner of V8 Supercars earlier this year, locking in exclusive pourage rights to all V8 Supercar events in Australia. As such, racing fans now have a choice between the mid-strength Coopers Mild Ale 3.5 and Coopers Clear.
According to V8 Supercars Chief Executive Officer David Malone, the introduction of Coopers has been very successful, a boon for both proudly Australian-owned brands.
"We could not have hoped for a better start to the relationship with Glenn and the team at Coopers," Malone says. "Fans have taken to the Coopers brand at a remarkable rate in the first half of the year with record sales at many of our events. Now, heading into the business end of the Championship, these numbers will only grow as we help Coopers build their brand profile nationally."
Cooper backed this stance, saying that V8 Supercars is the ideal platform for the company to introduce potential new drinkers around the country to its mid-strength Coopers Mild Ale 3.5 and Coopers Clear.
Coopers management has gone on the record in recent weeks, declaring the company's intention is to grow to 10 percent market share in Australia – they currently sit on four per cent – and this deal is certainly a strategic way of boosting their profile outside of their home state of South Australia.