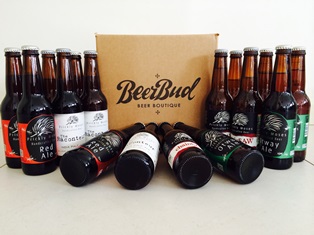 BeerBud Mixed Case
BeerBudis an exciting new business aiming to help Australians drink better beer. BeerBud is an onlinehub for beer lovers who wish to discover and buy Australian craft beer, with the online service offering an impressive range, expert advice and exclusive member-only benefits.
BeerBud was founded by three friends, Alex Gale, Andy Williamson and Mark Woollcott, after they became bored of mainstream beers that currently dominate the Australian market.
"The traditional, mainstream brewers are the first to admit that they've purposely designed their beers to be bland and flavourless to ensure their mass appeal," said Williamson. "But there are now hundreds of Australian craft breweries creating a diverse range of styles and flavours like you've come to expect from wine or coffee."
The explosion in local breweries mirrors the experience overseas where the US and European craft beer markets are rapidly becoming mainstream.
"At the heart of the craft beer movement is a shift in consumer preferences from drinking a particular brand of beer to a style like wine. From easy drinking summer ales, to dark and heavily roasted stouts and flavour packed IPAs, there is now a variety for any taste or occasion," said Williamson.
"We set out to create an online destination that's as simple and intuitive as possible for people to discover and shop Australia's best craft beer at the best prices. It also provides a platform for our craft breweries to market and distribute Australia wide."
There are more than 100 craft beers available, with the option to subscribe to hand-selected mixed cases, which feature a new local brewery every month. Every beer features tasting notes, member ratings and the story behind the brewery. BeerBud delivers Australia wide.
BeerBud also offers tailored craft beer events and experiences for both consumers and corporates.
"Craft beer is a great way to inject some flavour into corporate and social events and for people to sample a range of craft beers and engage with the breweries," said Woollcott. "We recently curated an event for Sydney's Vivid Festival where we supplied five of our favourite craft beers and cider at the Museum of Contemporary Art."